Did Donald Trump Really Credit His Great Brain to Limitless-Style Brain Booster Pill?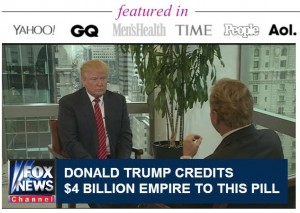 Republican presidential frontrunner Donald Trump is constantly bragging about his "great brain" (among other things), but is it possible that he owes that staggering intellect to a "brain-booster" pill like the one featured in the film (and now hit TV series) Limitless? Well, if you believe Fox News' James Rickman, he did. According to an article credited to Rickman, Trump told Fox News host Bill O'Reilly that he owes it all to something called CogniMaxx XL:
Trump shocks Bill O'Reilly by revealing his secret to working longer and more productive hours (10 extra years to be exact). Now, he's running for president so this pill's importance is tremendous says O'Reilly.

By James Rickman – Fox News

Trump is a big fan of creating jobs, reading books, and doing puzzles, but according to O'Reilly, he also credits his success to an IQ boosting, brain pill that helped him with memory, and recall. "This pill is the real magic," says Mr.Trump, referring to CogniMaxx XL.

"This brain booster is not heavily advertised but that's what's great about it– CogniMaxx XL puts all their money into finding the most organic, pure all natural ingredients and that it, it all goes into the formula, so you kind of have to be 'in the know' to get your hands on it, but I tell everyone I meet my 'secret' so I guess it's not really a secret anymore."
The only problem is, there is no "Fox News' James Rickman," and that website, although mocked up to look like it, is not Fox News' website. The article is a fake, parked there to buttress an email solicitation that's going around, and which my mom forwarded me this morning. This scam has, apparently, been running for years using other fake celebrity "endorsers" like Tiger Woods, Jamie Foxx, Denzel Washington, Jay Z, Bill Gates, Kanye West, Will Smith, and, of course, Limitless star Bradley Cooper. Snopes has previously debunked the exact same scam, only the pill was called "Alpha ZXT," but both used the same fictitious reporter' s name, and promised results similar to the drug "NZT" that's featured in Limitless.
None of which is to say that Donald Trump shouldn't try CogniMaxx XL. It couldn't hurt, could it?
This is an opinion piece. The views expressed in this article are those of just the author.