Did Fox News Successfully Shame The Media Into Covering Jana Winter's First Amendment Fight?
Did Fox Successfully Shame The Media Into Covering Jana Winter's First Amendment Fight?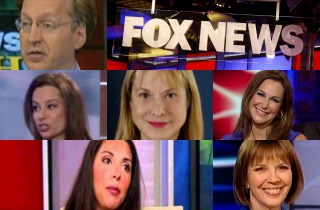 Beginning last Friday, Fox News Channel's personalities, left and right, engaged in an effort to raise public and media awareness about the case of Jana Winter – a Fox reporter who could face jail time for protecting a confidential source. As part of that campaign, Fox News contributors implied that the media was ignoring Winter's story because she worked for Fox News. The steady drumbeat eventually produced results and the media's silence on Winter's case is today well and truly broken. That broken silence may be due in part to the severe admonishment Fox News contributors levied on their media colleagues for ignoring the plight of one of their own.

RELATED: Judith Miller Warns That Fox Reporter Refusing To Reveal Source 'May Have To Go To Prison'
When Winter broke the story about a notebook sent by Aurora movie theater shooter James Holmes to his psychologist two weeks before his mass shooting, the news made national headlines. By acquiring the notebook, however, it was clear that Winter had been in contact with an individual who violated the gag order imposed on anyone with information about the ongoing Holmes trial. Winter was subpoenaed in January but, in keeping with a long-standing journalistic ethic, refused to give up her source. Winter faced a contempt citation and could even see the inside of a prison for protecting a confidential source.
As the case began to gain steam and the threat that Winter could face prison time became ever more real, a bipartisan cast of Fox News Channel's personalities sprang into action and flooded the airwaves and the Web with information about Winter's case. Each report was laced with a healthy scolding of the media establishment for their conspicuous silence about the case.
On Friday, Fox News Channel's Jim Pinkerton and Julie Roginsky asked, "Where is the rest of the mainstream media on this?"
"If I were a skeptic, I would say – I'd probably attribute that to anti-Fox bias," Pinkerton said of the muted response to Winter's case in the press. "That a reporter who does the right thing journalistically is normally a hero unless they work for Fox, in which case they're on their own. I think that's atrocious."
Attorney and Democratic Fox News Channel contributor Tamara Holder joined the effort on Sunday when she published a stirring defense of Winter's actions in pursuit of journalism. Holder noted that Winter had followed up on the work done by hundreds of reporters from a variety of organizations. That she would be prosecuted for her success in that pursuit is a waste of "public money on such a frivolous matter."
Ms. Winter must continue to fight against revealing who gave her confidential information, even if it means that she will be sentenced to jail for contempt of court. Ms. Winter was simply the messenger between her confidential sources and the public. If we do not protect our messengers, journalists lose the most important element of their career: trustworthiness.
"This should be an easy case," echoed feminist advocate, lawyer, and Fox News contributor Susan Estrich on Monday. "It should be an easy case because not only does the First Amendment prohibit states from abridging the freedom of the press, but Colorado – like 31 other states – has enacted a shield law that goes beyond the protections afforded journalists by the Constitution."
"[E]ven with a hearing only days away, there has been so little attention to the threat posed here not only to Ms. Winter, but to the core principles of the First Amendment, and to the efficacy of shield law such as Colorado's," Estrich declared. "Is it because Ms. Winter works for Fox News, and not for a more "liberal" media outlet? I cannot imagine a more shortsighted response, nor one that is more inconsistent with the fundamental premise of a free press."
Finally, former New York Times reporter Judith Miller, who herself served out a prison sentence after she refused to give up a source, lent her considerable moral authority to Winter's case.
"If we're dependent on what the government tells us, the public never really gets to know what it needs to know about a situation," Miller noted. "But if we don't have that personal relationship and a relationship of trust with our sources, people won't tell us things because they really are risking their careers when they tell us something that perhaps the government doesn't want us to know."
Fox News Channel's full-court press in defense of their reporter began to pay dividends this week as members of the media reflected on their own silence.
It was New York Magazine's Joe Coscarelli who, on Monday, virtually confirmed the above FNC contributors' premise that the members of the media who had been silent on Winter's case had done so out of an unspoken bias against the conservative cable news network. His opening paragraph, dripping with contempt for Fox News, concedes that the press is failing to support one of their own when that support was the most crucial.
It's not often that the journalistic establishment rallies around Fox News, and there are many good reasons for that, but it's also what makes the case of Jana Winter so fascinating. The FoxNews.com reporter — yes, a real reporter, not a talking head — is facing pressure to reveal the source that told her about Aurora killer James Holmes's scary journals, an ongoing media saga that's just now getting any attention at all. For Fox, always with a chip on its shoulder, the support so far is not enough. And they're right, in a way.
Coscarelli closed the article, however, noting that it was hypocritical of Fox to demand other outlets cover the "esoteric" Winter case. "Fox News is known to rally and cheerlead loud enough on its own, and doesn't always make it easy, or enticing, to join in," he scoffed.
Fortunately for the institution of journalism, few seemed to share Coscarelli's conviction that a reporter who worked for Fox and is defended by Fox should not be defended by other journalists.
CNN reporter Jim Spellman identified a clear bias in the media's lack of coverage of the case. This was followed by the respected CNN anchor Jake Tapper who, in conjunction with National Journal's Matthew Cooper, defended Winter and the practice of maintaining and protecting relationships with confidential sources.
With the announcement Monday that Winter has received a temporary reprieve from a Colorado judge, her case is no longer "esoteric," if it ever was. Traditional news outlets are now covering the case with abandon. In part, perhaps even in an unspoken sense, every journalist knows that their very livelihoods depend on their ability to maintain the trust of their sources – many of whom work in government. Every confidential source who shares information with the press knows that doing so means putting their lives and careers in jeopardy. If one reporter were to violate that trust, the entire enterprise would suffer.
Every reporter benefits when a journalist goes to jail in order to protect a source. In doing so, those imprisoned reporters reinforce the notion that, whatever the consequences, a confidential source who talks to the media will remain confidential. Those journalists that were silent on the matter knew they were in the wrong. Individuals like Coscarelli who defended the practice of ignoring a story because Fox News is enthusiastic about it will wear their prejudice as a mark of shame.
Fox News Channel appears to have successfully coerced the media into covering Jana Winter's story on its merits, and the institution of journalism will be better off for it.
> >Follow Noah Rothman (@NoahCRothman) on Twitter
This is an opinion piece. The views expressed in this article are those of just the author.