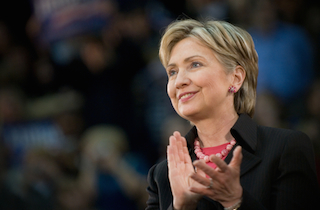 For weeks political watchers and congressional Democrats have been wondering where 2016 Democratic frontrunner Hillary Clinton stood on President Barack Obama's much-touted Trans Pacific Partnership, a complex trade deal touching on 40% of the world's economy.
At a rally launching her Iowa campaign, Clinton called the House of Representative's rejection of a provision of the bill last week an opportunity to make it stronger.
"There are some specifics in there that could and should be changed," Clinton said. "So I am hoping that's what happens now — let's take the lemons and turn it into lemonade."
Clinton also indicated she would drive a harder bargain than Obama has. "No president would be a tougher negotiator on behalf of American workers, either with our trade partners or Republicans on Capitol Hill, than I would be," she told the applauding crowd.
The TPP, and the fast-track authority (Trade Promotion Authority , or TPA) Obama seeks to help pass it, has pitted the White House against the Democratic Party's liberal wing, with progressive figures like Senator Elizabeth Warren (D-MA) and Clinton opponent Bernie Sanders (I-VT) opposed to the deal, or at the very least the secrecy surrounding it.
RELATED: Stephanopoulos Presses Clinton Official on Trade: 'It's Pretty Simple'
Last week congressional Democrats combined to defeat the Trade Adjustment Assistance, a provision allowing retraining for workers who lose their jobs as a result of outsourcing. Rejecting the provision effectively killed the fast-track authority Obama would need to ultimately pass the massive deal through Congress without amendments, and represented a significant rebuke to the president's second-term agenda.
Clinton signaled she sided with Minority Leader Nancy Pelosi (D-CA), who hopes the TAA rejection will secure congressional Democrats better leverage in a bill Obama largely negotiated with Republicans.
"In order to get a deal that meets these high standards, the President should listen to and work with his allies in Congress, starting with Nancy Pelosi, who have expressed their concerns about the impact that a weak agreement would have on our workers, to make sure we get the best, strongest deal possible," Clinton said. "And if we don't get it, there should be no deal."
Note that these are mostly procedural criticisms, and that Clinton has not specified whether she endorses the TPA, or how she comes down on the various economic, environmental, and foreign policy tradeoffs inhering in the trade deal.
[h/t CNN]
[Image via mistydawnphoto / Shutterstock.com]
——
>> Follow Evan McMurry (@evanmcmurry) on Twitter
Have a tip we should know? tips@mediaite.com