When Rupert Murdoch and News Corporation took over Beliefnet in 2007, some feared that the site known for its ecumenical approach to religion and faith would turn into a Fox News-styled mouthpiece for social and religious conservatives.  With the storied site now sold and some people writing its obituary, it appears that Beliefnet was harmed not by becoming Fox, but instead by becoming too much like O, the Oprah Magazine full of self-help columns and vague spirituality.
Beliefnet will always have a place in the history of the online journalism world, having experienced a meteoric rise and fall and rebirth helmed by Steven Waldman, one of the site's co-founders and a pioneer of online journalism.
But when Fox Entertainment Group–which ran faith-related entities HarperCollins' Zondervan, HarperOne brands, and 20th Century Fox Home Entertainment's faith-based programming–took over the site, the news content that made Beliefnet famous began to collapse to be replaced by self-help blogs, prayer requests, and mystical, pop-religion talk of angels and gauzy spirituality all in an attempt to make more money.
David Gibson, now at AOL's PoliticsDaily, joined Beliefnet to cover Pope Benedict XVI's 2008 visit to the U.S. at the urging of Waldman. In an email to Mediaite, he said he was drawn to the site not for the money–which is notoriously low–but because he got to do the kind of coverage he wanted and Beliefnet had the reputation as a good outlet for religion journalism.
"I'm not sure anything in particular went wrong that anything could cure," Gibson said. "Beliefnet was one of the first sites of its kind, and the Internet tends to be kinder to next generations of inventions rather than the original."
Started in 1999, the site provided an opportunity for some of the country's top religion writers and thinkers to discuss religion in a non-partisan setting. The site won the American Society of Magazine Editors award for general online excellence in 2007 after being a three-time finalist, as well as winning both WEBBY and Online Journalism Association awards.
In late June, News Corp. sold Beliefnet to investement group BN Media which runs Affinity4 and Cross Bridge Media, two media companies with strong ties to the Evangelical Christian world.  Affinity4 board members and Cross Bridge advisers include Pat Robertson-acolyte Jay Sekulow, a Beliefnet blogger, and Rev. T.D. Jakes.
Since the purchase by New Corp., the site has been plagued by a huge turnover of bloggers—who have largely replaced independent religion journalism on the site—recruited by Waldman. Former Bush administration official David Kuo came to Beliefnet, like so many people, to promote his book and left to create the short-lived Culture 11. Sojourner's Jim Wallis also had a popular blog, only to move it to Sojourners where the debate was more civil.
Ju-Don Roberts, Beliefnet's executive editor and senior vice president, acknowledged in a statement that there has been significant turnover at Beliefnet but downplayed that it was due to frustration with the  News Corp regime.
"Long-timers go off to try something new; new bloggers come on board bringing new perspectives and adding to the diversity of our coverage," she said in a written statement to Mediaite. "We will continue to strive to make Beliefnet a place where bloggers and our users want to come and contribute to the conversation taking place here.
By far, Beliefnet's most well-known and successful current blogger is Rod Dreher, a former Dallas Morning News editorial writer who also had stints at the National Review and the New York Post. His blog averages about 400,000 pages views a month, which is around 100,000 fewer a month since he changed the blog's focus to be less political after joining the staff of the non-partisan John Templeton Foundation.
Dreher, who has been at Beliefnet since 2006, is leaving the site next month when the blog moves to Templeton's Big Questions Online. The move was part of the deal Dreher struck when he moved to Templeton and was agreed on before News Corp's decision to sell the site.
In assessing his experience at Beliefnet, he praises Waldman and his editors and has fewer complaints about the pay largely because bloggers receive bonus payments for driving traffic to the site. Dreher's willingness to be provocative and prolific means links from powerhouse bloggers like Andrew Sullivan and a place on the national scene, something few Beliefnet bloggers have been able to achieve.
Though my day job was as an editorial writer and columnist at the News – and that was the job I put most of my effort into – the Beliefnet blog was the thing that kept getting me requests to be on radio and TV.  It was a bit frustrating, because I'd work really hard to write what I thought was an important column, and … crickets. But I'd put up a tossed-off blog about a hot issue, and some producer in New York, Washington or some other place would be on the phone, wanting me to come on and talk about it.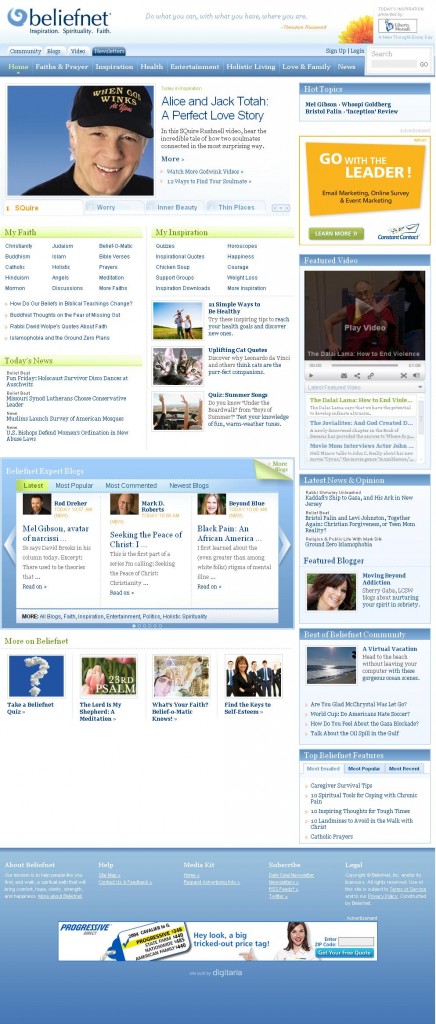 Despite the notoriety he's gotten from the site, Dreher says he's disappointed that Murdoch and News Corp. didn't push for more commentary and a harder news focus. He said that there was initially hope that Murdoch and News Corp. would use Bnet to create religion news content for its other properties—including Fox News—but that never happened.
"[A]s far as I can tell, Fox has no interest – zero, zilch, nada – in religion news," Dreher said. "It's such a mystery to me – as if the Fox News Channel demographic has no natural interest in religion! But that's how it was, and it was a bit discouraging. There was only so much Steve could do."
Waldman left the site in 2009 to take a position with the Obama administration after saying he wasn't in for the long haul after the site was bought by News Corp.
In a New York Times column about the sale, Waldman said he had regrets about the direction Beliefnet took away from hard news. He told Mark Oppenheimer that "I had to lead the site to being something that was not my personal sweet spot. So that was hard. On the other hand, the most helpful parts of the site are not where I am reading about religion and politics — it's the prayer circles.
Waldman told NYT that some advertisers weren't interested in "overtly religious content" and that it was placed in certain parts of the site so that advertisers could avoid words like "God" and "Bible."
One challenge that has always faced Beliefnet was that it tried to focus on the larger world of religion and spirituality, which runs counter to what many religious people are looking for in a website.  Gibson said Beliefnet "cast such a wide net that it had trouble establishing an identity, and the site could look so busy that it only reinforced its kind of syncretistic
Jason Pitzl-Waters, who is at the epicenter of the online Pagan community and has been critical of Beliefnet for failing to include Pagans, agreed.
The site itself, aside from a few of its blogs, was so watered down as to be completely uninteresting to those looking for something aside from bland platitudes and feel-good inspirational stories. As others have complained, the site seemed direction-less, purpose-less.
With blogs like "Our Lady of Weight Loss," "The Queen of My Self," and "Lessons from a Recovering Doormat," the site has taken on a very Oprah-like presence.
"I think News Corp "blinked" on doing something about it, and were afraid to dismantle the successful newsletter programs and hits-generating "stories" like "Beach Quotes" or "21 Tips to Help A Grieving Friend" in order to point it in a new direction. Instead they just added more "stuff" and made the site more confusing," Pitzl-Waters said.
Terry Mattingly, at the religion journalism watchdog site GetRelgion said Beliefnet provides users "a kind of vague, non-judgmental help — in the form of listservs and prayer circles in which they were communing with people they would almost certainly never meet in a religious context involving doctrine and face-to-face contact. It was niche, digital spirituality, pure and simple."
The blogs and newsletters would suggest that Beliefnet has a largely female and older readership, although it's hard to pin down Beliefnet's demographics and traffic.
In 2009, Beliefnet told potential advertisers that they were receiving 5.8 million unique visitors a month to the site and newsletters and that they had a mailing list of 9 million people.  The site was overwhelmingly trafficked by women (73 percent) over the age of 35 (92 percent). The demographics show the average Beliefnet reader is well-educated with a relatively high income.
In 2010, Beliefnet says they are receiving a significantly lower 2.7 million unique visitors a month across the Beliefnet network, with 80 percent of our users older than 35 and 51 percent being female. Those 2009 statistics, according to Roberts, came from Nielsen@Plan and are less reliable then their current numbers which are provided by Comscore Media/Metrix.
Few people who watch Beliefnet expect the new owners to return to Waldman's vision of strong news content, especially with the growth of online religion news sources like CNN's Belief Blog–helmed by Beliefnet alum Dan Gilgoff and Eric Marrapodi—HuffPost Religion, and On Faith, by the Washington Post and Newsweek.
The new owners have no experience in traditional journalism with the companies largely doing fundraising for non-profits–including non-profits headed by Sekulow (American Center for Law and Justice) and Jakes (Potter's House ministry)–and creating promotional media. The purchase by the companies largely controlled by people with connections to Sekulow and Jakes has raised some eyebrows given Beliefnet's ecumenical approach, although the new owners told Christianity Today that they planned to name a multi-faith advisory board.
Mark Silk, a new Beliefnet blogger, said on his Spiritual Politics blog that he didn't have concerns about the new owners, quipping "if I could work for Fox, I can certainly work for Affinity4," despite the companies' commitment to "the sanctity of the family."
Even Pitzl-Waters conceded "it's hard to muster much outrage or even annoyance" that the new owners may take the site in a much more Christian–even Evanegelical–direction given the maturation of the online religion world.
What's lost, all agree, is the good old days when Beliefnet was at the forefront of religion journalism and a place where major figures in religion and faith came together to talk about faith.  Those days appear long gone, although there are still quizzes on celebrity and family life to fill the void.
Have a tip we should know? tips@mediaite.com