Did Steve Doocy Read Anonymous Blog Comments On The Air As Payback to Politico's Ben Smith?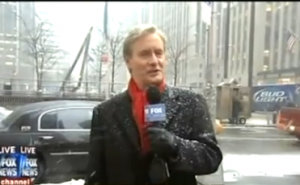 This morning on Fox & Friends, co-host Steve Doocy weirdly went after Politico's Ben Smith, calling Politico a "lefty web site" and reading some unflattering comments about Smith from commenters to Smith's articles. Elevating the criticism from random anonymous commenters seems at best a unique way to target a reporter whose credibility is in question, but will anyone really think it's effective?
Smith seems to believe Doocy was told to go after him as a result of Smith writing a blog post/column about Fox News leader Roger Ailes. Smith wrote:
Doocy's rant, which he says he drew from reading my column yesterday, but which it's hard to believe he wasn't told to do, reflects a remarkably thin skin. I stay out of opinion journalism, but must in my life have written something harsher about someone somewhere, without provoking a news outlet to risk what's left of its reputation by reading anonymous blog comments on the air

But I am glad that those are the only comments they read from a section that, regular readers know, I've been working on either closing or shutting down because it can sometimes get abusive and out of control. Those are, by local standards, pieces of reasoned criticism. Fair and balanced, even.
Whether or not true, it seems Doocy should follow the example set by from Fox News' Bill O'Reilly. The ultimate way to get revenge against a critic? Pretend they literally don't exist. Right up until the end, O'Reilly refused to ever mention the name of arch-nemesis Keith Olbermann and look who got the last laugh in that encounter.
Watch the clip from Fox News below:

Have a tip we should know? tips@mediaite.com