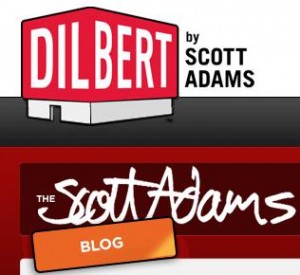 Who knew the Dilbert guy, Scott Adams, was such a controversial figure? The cartoonist behind the hapless office drone (but not the one who inspired Office Space. That was Mike Judge's Milton) has found himself in hot water of late, first for comparing women to "children and the mentally handicapped," and now, for defending Marilyn Davenport, the Republican official who sent emails depicting President Obama as the offspring of chimpanzees.

Ironically, Adams' defense of Davenport is embedded in a lengthy manifesto about the deleterious PR effects of sticky internet rumors:
The same thing is happening today with a Republican official who emailed some friends a humorous photo of President Obama's face on a chimp and a punch line about his birth certificate. If your only context is what the Internet says about this story, you assume it's a typical racist act by a Republican who is already guilty by association. But if I add the context that Googling "George Bush monkey" gives you over 3 million hits, and most of them are jokes where President Bush's face is transposed on a monkey, you see what's really going on. Democrats and advocates of civil rights are using the media to further an agenda at the expense of a woman who was probably so non-racist that the photo in question didn't set off her alarms as being a career-ending risk.
Even though Adams isn't the guy behind Office Space, and has some strange ideas about how to deal with angry ladies, he deserves to have this explained to him.
Here's the thing. President Bush was a white dude, so calling him a chimp, while not very nice, doesn't evoke dehumanizing racial stereotypes that have historically fueled murder, rape, and enslavement. President Obama is a black man, so picturing him as a chimpanzee does evoke dehumanizing racial stereotypes that have historically fueled murder, rape, and enslavement. Scott Adams can Google President Bush until Dilbert's tie straightens out, and he's never going to find a legitimate analog to this insult.
Also, this isn't Davenport's first brush with racial email hijinks. According to former California Republican Party Chairman Michael Schroder, Davenport defended Los Alamitos Mayor Dean Grose when he sent out this knee-slapper, a photo depicting a watermelon patch on the South Lawn of The White House:



While none of this necessarily makes Davenport a racist (she could just be extremely clueless about race), there's more than enough probable cause here to absolve "Democrats and advocates of civil rights" of being wolf-crying opportunists.
Speaking of stereotypes, though, what did Adams mean by "typical racist act by a Republican?" He's either promoting, or acknowledging, a stereotype about white conservatives, which compounds his failure to recognize the same in Davenport's email.
Have a tip we should know? tips@mediaite.com