Dinesh D'Souza Deletes Pictures With Bannon, Gorka Because It Showed 'Inner Workings of White House'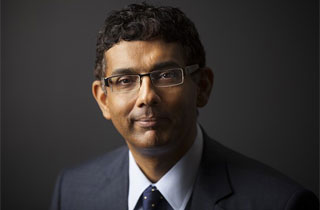 Controversial conservative author Dinesh D'Souza has a new book aligning the Democratic Party with Hitler and Mussolini — and he's promoting it with top White House staffers Sebastian Gorka and Steve Bannon.
D'Souza posted two now-deleted tweets posing with Bannon and Gorka inside the White House holding his book, The Big Lie: Exposing the Nazi Roots of the American Left.
Dinesh D'Souza deleted a tweet claiming he briefed Bannon and Gorka on his new book linking Democrats to Nazis pic.twitter.com/0d3UgfXSbJ

— Lachlan Markay (@lachlan) August 4, 2017
The author told this reporter on Friday the reason for deleting the tweets was "they contained some notes in the background showing the inner workings of the White House," referencing the whiteboard in the background filled with White House information.
D'Souza added that the controversial deletion "is all going to be cleared up."
I just asked D'Souza about this at GWU, he says he deleted the tweet because it "had notes showing the inner workings of the White House" https://t.co/hYIXrTF6MI

— Caleb Ecarma (@calebecarma) August 4, 2017
This is not the first time the Trump administration has experienced a Bannon whiteboard leak via Twitter, as Rabbi Shmuley Boteach posted a photo in May showing Bannon's to-do list.
In regards to the book itself, a promo piece — courtesy of Fox & Friends — explains D'Souza's latest work "explodes the Left's big lie" and "expertly exonerates President Trump and his supporters, then uncovers the Democratic Left's long, cozy relationship with Nazism . . . and how today's anti-free speech, anti-capitalist, anti-religious liberty, pro-violence Democratic Party is a frightening simulacrum of the Nazi Party."
D'Souza's controversial history includes a campaign-finance related felony in 2014, cheating on his wife while at a Christian conference, and joking about Senator John McCain's time as a prisoner of war in Vietnam.
Have a tip we should know? tips@mediaite.com