Ted Cruz has had a rough couple of days lately. The Texas senator's had to deal with hostile protestors, saw his dad smeared as the associate of a president killer, and he's currently watching his 2016 ambitions crumble to pieces. Where do things go from here, you ask? Samantha Bee's got the answer: online mockery.
The host of Full Frontal put up a post on Medium today with an old show graphic depicting a very neanderthal-looking John Kasich snacking on his fallen GOP competition for some reason.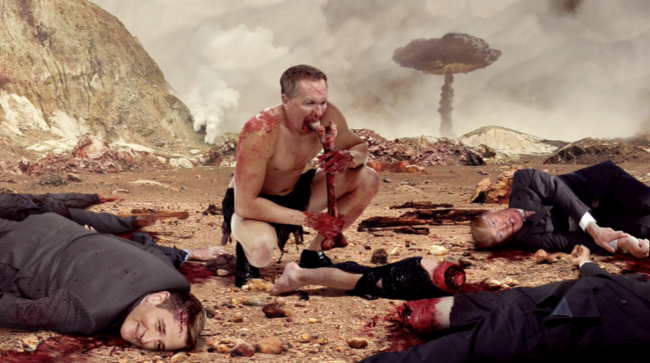 With this, Bee looked at the photoshopped image of Cruz and pondered "what would you do with a Lyin' Ted of your own?" Deciding this was the perfect prompt, Bee tweeted out and asked the Interwebs to submit their best ideas for the real reason why Cruz was cursed so much by Donald Trump's nickname.
Naturally, Twitter rose to the occasion:
@FullFrontalSamB #WhereIsLyinTed

Finally accepting himself and his true desires pic.twitter.com/0TrlF5xaOy

— Nathaniel Wilson (@nathanielpjw) May 3, 2016
@FullFrontalSamB On his "Comfort Rug" #WhereIsLyinTed pic.twitter.com/CMriKcJ09g

— Thornton McEnery (@ThorntonMcEnery) May 3, 2016
Well, @FullFrontalSamB I really loved Cruz's death scene in @GameOfThrones #WhereIsLyinTed #TedCruz pic.twitter.com/klYfkudZCH

— Dan Vera (@danvera) May 3, 2016
@FullFrontalSamB #WhereIsLyinTed How about some Paranormal Ac-Ted-vity? pic.twitter.com/uk4OSbmcVy

— Taylor Carlisle (@TCarlisleArt4) May 3, 2016
@FullFrontalSamB so many choices…#WhereIsLyinTed pic.twitter.com/nc3L3zb5PS

— Deja M. Burt (@Hoosyourdaddy99) May 3, 2016
Someone's holding his breath until he's declared President. #WhereIsLyinTed @FullFrontalSamB pic.twitter.com/Ak5P8WFmXm

— Nina Bargiel (@slackmistress) May 3, 2016
The force is wrong with this one. @FullFrontalSamB #whereislyinted pic.twitter.com/KUveaLXX6z

— Brian C. Penrod (@briancpenrod) May 3, 2016
@FullFrontalSamB Chillin on some soup.#WhereIsLyinTed pic.twitter.com/aouanPOkND

— JustBeatrice (@JustBeatrice1) May 3, 2016
We're gonna need a bigger vote #WhereIsLyinTed @FullFrontalSamB pic.twitter.com/zTCsXPHer8

— Eryn (@Eryn_NotErin) May 3, 2016
Look at all the cars swerving to hit Senator Ted Cruz #whereislyinted @FullFrontalSamB pic.twitter.com/NGD1t2VUWc

— Moist Wizard (@MoistWizard) May 3, 2016
Who needs transgender restrooms? #WhereIsLyinTed @FullFrontalSamB pic.twitter.com/xcflSutJDR

— Marv Anderson (@MarvAmuses) May 3, 2016
@FullFrontalSamB Lyin Ted has always been a creeper!#WhereIsLyinTed pic.twitter.com/s6LJgrSrvZ

— Crazzzy (@Crazzzypaul) May 3, 2016
@FullFrontalSamB Hanging out with his dad's old friends. #WhereIsLyinTed pic.twitter.com/dpU6yIeLoU

— Gabriel Mann (@OhioGabe) May 3, 2016
[Image via screengrab]
— —
>> Follow Ken Meyer (@KenMeyer91) on Twitter
Have a tip we should know? tips@mediaite.com