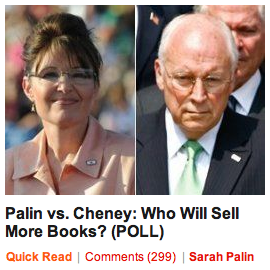 Books have had a hard time establishing a profitable foothold on the Internet. In many respects, they're the anti-blogosphere: they take a long time to read, and thus to form opinions about, most people don't read very many books (according to a 2007 AP poll, the typical American claims to have read four books in the past year), and the people who do skew older and are not as plugged in.
There are smart folks over at The Huffington Post who know all of this, no doubt, and their decision to launch a new book vertical under the leadership of Dutton Books' Amy Hertz, suggests that they think it will succeed anyway. Can it, though? More importantly, how does it define success?
All blogs — really, all publications — have to reach a balance between breadth of appeal and depth of audience. Right off the bat, the HuffPo book blog faces a dilemma: The Huffington Post, on the whole, has embraced breadth, while the world of books is a deep, narrow thing.
There are some excellent book blogs out there — Bookslut, The Daily Beast's Book Beast, and TNR's The Spine come to mind — but they dig deep in a way that makes a broad base of appeal unlikely. Bookslut has features like "An Interview with Horacio Castellanos Moya" and columns like "Eddy Current was Wrong: Looking Back at the Ted McKeever Library;" according to Compete.com, it had 26,680 unique visitors in August. Even the more accessible Book Beast doesn't exactly hit The Daily Beast's "most popular" board very often.
Given that stark landscape, HuffPo deserves praise for even bothering to cover books. At this point, book coverage has been so slashed that really, anyone devoting significant resources to it can be construed as a public service.
Have a tip we should know? tips@mediaite.com