Dog Vying For Title of 'World's Ugliest' Runs on Platform of Looking Like Trump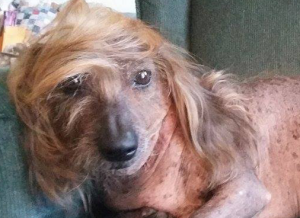 Do you know what tonight is?! Tonight is the World's Ugliest Dog competition in Petaluma, California! Donald Trump can keep his lame old Miss Universe pageant; this is where it's at.
According to the Hollywood Reporter, a dog named Himisaboo is aiming to take all of Trump's pageant spotlight away by winning on a platform of looking just like the mogul. Here is his bio, courtesy of the Sonoma-Marin Fair, which hosts the contest:
Hello, my name is Himisaboo and I am 9 old. I am half dachshund and half Chinese Crested or Xoloitscuintle. I live in Payette, Idaho! When my people met each other, they were too enamored by each other to remember to have one of my parents fixed. That's how they acquired ME! When I was born, my doggie mama jumped off the bed with me still attached by the umbilical cord!!! I bounced on the floor for about 5 feet. Thank goodness my people mama jumped in to help before I was dragged up the stairs! This is my 4th time in the contest. My lack of hair on my body, and extra hair on my head are 100% natural. Before Donald Trump was running for anything, I was featured on national television for having Donald Trump's hair! Whether you LOVE The Donald, or LOATHE him, a vote for Himisaboo is a vote for a dog that looks like Donald Trump! That can be taken either way, but you have to admit, I am a dog who TRUMPS all others!
Luckily, whether you're casting a ballot for or against Trump in November, you still have time to vote for Himisaboo right here today!
[image via screengrab]
For more from Lindsey, go to Twitter or Facebook.
Have a tip we should know? [email protected]