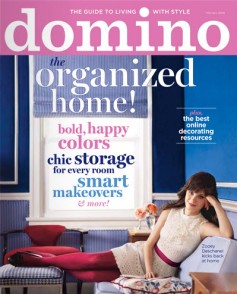 While Conde Nast's problems long preceded Domino's folding earlier this year, it's possible to see the closure of that much-beloved magazine as the final nail in the coffin that has resulted in the summer-long McKinsey interrogation at 4 Times Square. Not so-much because of Conde's decision to fold the magazine per se — last year was a dark one for print publications and may beloved tomes disappeared — but because they also decided to shut down the website.
Domino, an upscale shelter magazine, enjoyed a hugely loyal (and not small) following and the decision to remove its web presence, especially during an economic downturn when people were looking for more and cheaper ways to brighten their home lives, seemed to especially highlight Conde's shortsightedness where the Internet was concerned. In a poll I did at FishbowlNY earlier this year more than 50% of the people who participated said they would pay to keep the website online. So there was arguably a very strong web audience out there for Conde to fall back on had they invested any thought or time in a web presence.
Apparently this wasn't lost on former Domino editor Michelle Adams who is about to launch Lonny, a new online magazine. Adams tells Memo Pad: "Our goal is not to replace Domino, as there will clearly never be a replacement, but rather to help fill the void that has been left by so many closing shelter publications and help bridge the gap between traditional print magazines and the online world."
It may not be 'replacing' Domino but it is certainly lined up some Domino heavyweights for its first issue: Former Domino editor in chief Deborah Needleman is featured in her garden, and Kate Townsend Simpson is the inaugural cover subject.
Have a tip we should know? tips@mediaite.com