Don Jr. Goes on Twitter Spree Slamming PETA, Liberals and YouTube After YouTube HQ Shooting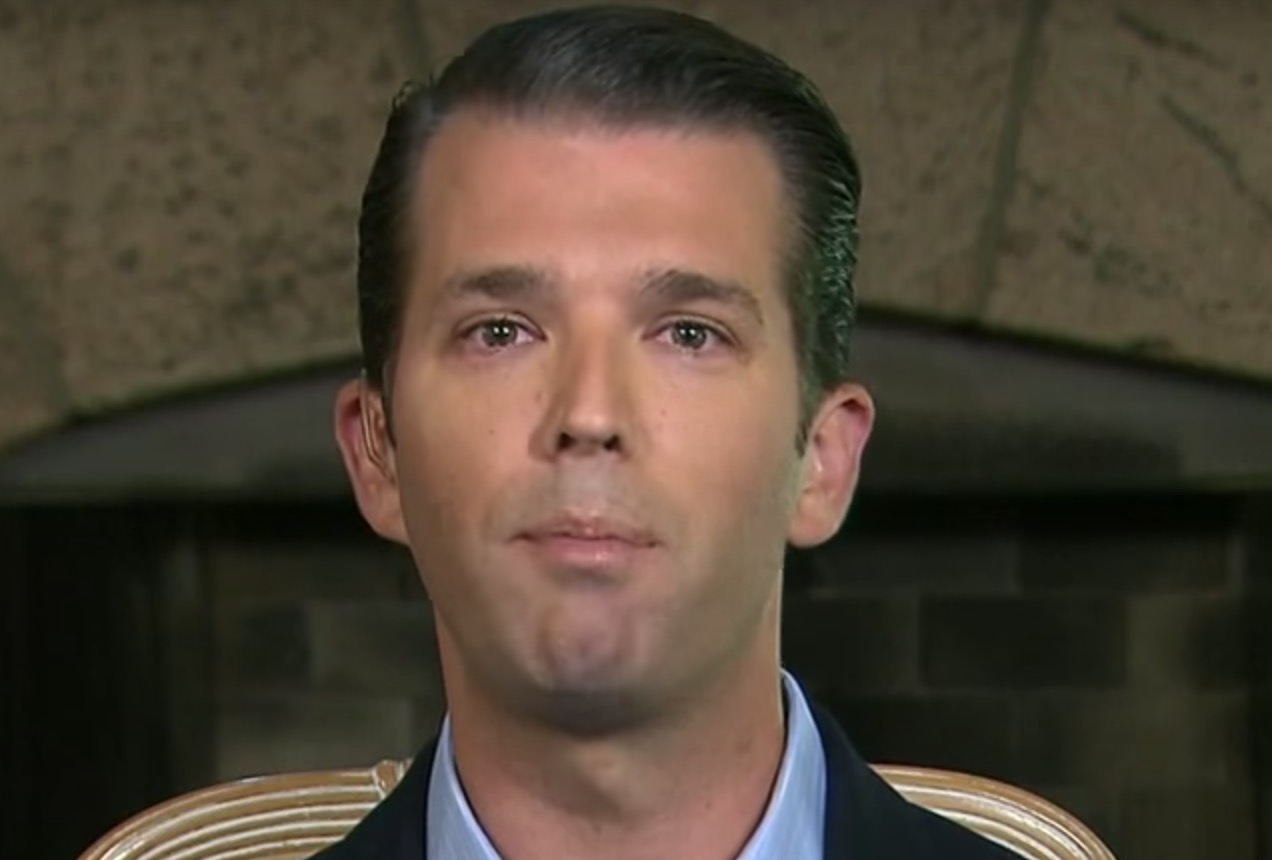 Donald Trump Jr. was on a Twitter bender Tuesday night that went well into Wednesday morning, furiously posting and retweeting hot takes about the YouTube HQ shooting that left a suspected gunman dead and three wounded.
It was reported late Tuesday that the shooter, 38-year-old Nasim Najafi Aghdam, was a prolific YouTuber herself, and was furious that the platform was "censoring" her content — which included workout videos and graphic depictions of animal abuse.
Aghdam, who described herself on her website as a "Persian vegan," also attended a PETA (People for the Ethical Treatment of Animals) rally in San Diego in 2009.
That information was enough for President Donald Trump's adult son, perennial shit-poster Don Jr., to embark on a Twitter spree slamming PETA, liberals and (somehow?) YouTube for apparently discriminating against the NRA.
In one tweet, Don Jr. bashed YouTube and Instagram, suggesting that the platforms only shut down mass shooters's accounts if they are NRA members, "as opposed to liberal Vegan PETA activists":
You think there's any chance whatsoever that a mass shooters hateful Instagram and YouTube channels would be pulled immediately if they were NRA members as opposed to liberal Vegan PETA activists? Asking for a few million friends in the @NRA

— Donald Trump Jr. (@DonaldJTrumpJr) April 4, 2018
Don Jr. also retweeted a post from Peter Sweden — who happens to be a right-wing vlogger, anti-Semite and Holocaust denier — in order to slam liberals for their criticisms of the NRA in the wake of shootings:
So you're saying not likely an @NRA member??? https://t.co/UqKUBb93pA

— Donald Trump Jr. (@DonaldJTrumpJr) April 4, 2018
He also retweeted a post suggesting the "mainstream media" will "bury" the story, because the shooter is "Female, foreign, a Vegan animal activist, off the rails mentally ill, didn't use an AR-15, and shot up a building in the strictest gun control state in America":
So the San Bruno YouTube HQ shooter was Female, foreign, a Vegan animal activist, off the rails mentally ill, didn't use an AR-15, and shot up a building in the strictest gun control state in America….how fast do you think the mainstream media is going to bury this? pic.twitter.com/oHnkSiolGv

— Mindy Robinson (@iheartmindy) April 4, 2018
He went on to argue that "PETA has more mass shooters than the NRA":
Yup I look forward to the whole PETA has more mass shooters than the NRA conversations. I'm sure they will cover that… right? https://t.co/2taoidxApp

— Donald Trump Jr. (@DonaldJTrumpJr) April 4, 2018
Don Jr.'s "likes" on Twitter painted an even more frenzied picture, as captured by HuffPost's Ashley Feinberg:
dripping with glee pic.twitter.com/JpxnAsSLJg

— Ashley Feinberg (@ashleyfeinberg) April 4, 2018
[image via screengrab]
—
Follow Aidan McLaughlin (@aidnmclaughlin) on Twitter
Have a tip we should know? tips@mediaite.com
Aidan McLaughlin - Editor in Chief