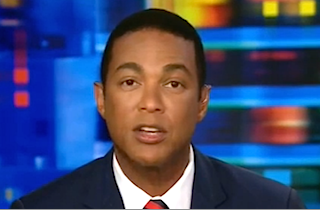 After speaking to an eyewitness of the Michael Brown shooting on CNN last night, Don Lemon used his regular appearance on the Tom Joyner Morning Show to issue a statement he said he wanted everyone to hear, but "especially white folks."
"It has been almost a week since unarmed teenager Michael Brown was shot dead by a police officer in the St. Louis suburb of Ferguson, and still there no answers," Lemon began. He tried to make that point that racial attitudes in Ferguson, Missouri and elsewhere in this country helped provide the environment that led to Brown's death.
"We need to address the fact that in Ferguson, Missouri black drivers and people are stopped more often than whites even though the whites who are stopped are more often carrying illegal contraband," he said. "We need to address the fact that Ferguson, Missouri is not an outlier."
"We need to address the fact while we don't know exactly what went down between Brown and the officer that many people in this country are more likely to give the officer the benefit of the doubt rather than an unarmed black teenager," he continued, saying many white people will assume that Brown was doing something wrong when he was killed.
"We need to address the fact that many white people in this country refuse to even allow the possibility that there is a double standard when it comes to the way black men are perceived and treated in American society on a daily basis, on the street, at work, at the grocery store, at the mall, everywhere," Lemon said, before invoking President Barack Obama's "My Brother's Keeper" initiative, which he said isn't just for black men to help other black men but for all people to help black men.
"It's time for the white people who are in willful denial to break the cycle and become their black brother's keeper," he concluded.
Listen to audio below, via BlackAmericaWeb:
[Photo via screengrab]
— —
>> Follow Matt Wilstein (@TheMattWilstein) on Twitter
Have a tip we should know? tips@mediaite.com