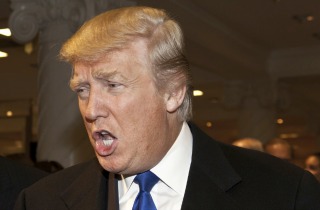 Real estate mogul and game show host Donald Trump was in a rare mood over the weekend, taking an especially sassy tone while addressing his unnamed "haters and losers" on Twitter.
It started Friday with Trump, once again, pretending he may run for president.
"I wonder if I run for PRESIDENT, will the haters and losers vote for me knowing that I will MAKE AMERICA GREAT AGAIN?" he tweeted. "I say they will!"
Two days later, whatever was eating at Trump must have only gotten worse. "Every time I speak of the haters and losers I do so with great love and affection," he said Sunday. "They cannot help the fact that they were born fucked up!"
Trump's work week didn't necessarily start off any better. Monday morning he was pranked by someone on Twitter who tricked Trump into tweeting a photo of two infamous British serial killers. He has since deleted that photo.
Trump was in good spirits later in the same morning, however, during a call-in hit on Fox News in which he questioned whether Barack Obama actually does any work as president.
I wonder if I run for PRESIDENT, will the haters and losers vote for me knowing that I will MAKE AMERICA GREAT AGAIN? I say they will!

— Donald J. Trump (@realDonaldTrump) September 26, 2014
Every time I speak of the haters and losers I do so with great love and affection. They cannot help the fact that they were born fucked up!

— Donald J. Trump (@realDonaldTrump) September 29, 2014
Watch via Fox News:
[Photo via Shutterstock]
— —
>> Follow Eddie Scarry (@eScarry) on Twitter
Have a tip we should know? tips@mediaite.com