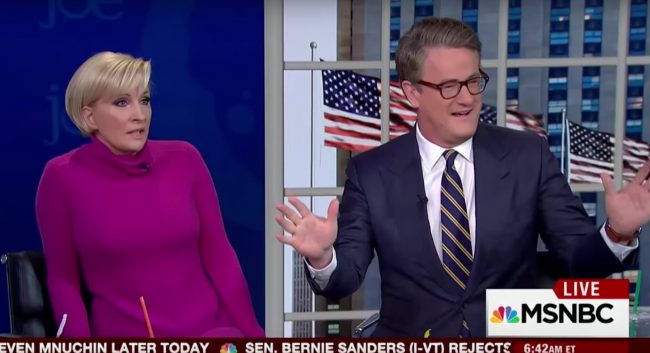 Settle in, pals, because today's media news is going to be all about the Morning Joemance and there's nothing you can do about it.
New details keep emerging about the engagement of MSNBC's Mika Brzezinski and Joe Scarborough. For instance, Donald Trump offered to marry them. No, really; that's what they're saying!
First, we just had the news itself. Then, we got to see how they approached the subject on their morning show. Now, we're hearing all kinds of juicy tidbits thanks to an exclusive from Vanity Fair.
The piece — which features real, live, on-the-record quotes from the usually reticent couple — goes over the details of their romantic getaway and the moment Scarborough proposed. It talks about their kids and their pets and the challenges of blending their families and making sure their relationship doesn't affect the show. It's all fine and good, but what we're really here for is that Trump anecdote.
During a January sit-down with Ivanka Trump, Jared Kushner, and, yes, the president himself, Brzezinski and Scarborough were told that if they wanted to get married, they should do it at Mar-a-Lago.
Kushner reportedly piped up that he has a license and could marry them. That's when Trump said, "Why would you marry them? They could have the President of the United States marry them."
To Vanity Fair, Brzezinski said, "The White House that I grew up in was an amazing place. If it weren't Trump, it might be something to think about. The mental picture is just fascinating, but the reality is just… no. No, no, no, no, no."
It's likely turned into a "no, no, no, no, no," for Trump, too, of course. He unfollowed the couple on Twitter in March after they were too hard on him for his liking.
Although it will never happen, please just take a minute to imagine the absolute spectacle that Trump marrying the Morning Joe co-hosts at the White House would be. Please.
[image: screengrab]
Have a tip we should know? tips@mediaite.com