Donald Trump Demands 'Crazy' Mika Brzezinski Apologize for 'Vicious Attack' on Black Pastor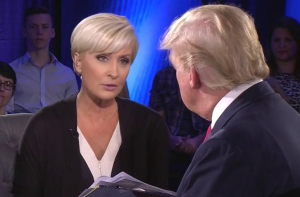 In 2016, it can become really difficult to figure out who to root for. On Friday morning, Morning Joe co-host Mika Brzezinski lit into Pastor Mark Burns for not answering her question quickly or directly enough. Pastor Burns is a Trump supporter, so Republican presidential nominee Donald Trump came to his defense, but he did it by calling Mika Brzezinski "crazy":
Wonderful @pastormarkburns was attacked viciously and unfairly on @MSNBC by crazy @morningmika on low ratings @Morning_Joe. Apologize!

— Donald J. Trump (@realDonaldTrump) August 26, 2016
Here's the exchange to which Trump was referring:
Mika Brzezinski: when he made the comments about the judge saying he, was that racist or not? I just want to know if that is racist or not. I need to know where you stand on things in terms of reality. so, were those comments racist or not?

Pastor Mark Burns: I think it's important to understand. I think if I was in Mr. Trump's shoes and I had a very controversial policy that offended many millions of, potentially millions of Hispanic people…

Mika Brzezinski: You know he was born — were the comments racist or not?

Pastor Mark Burns: Let me finish my statement or not.

Mika Brzezinski: I'm asking for the answer to the question and not a statement.

Pastor Mark Burns: Let me give you my answer the way I would give it to you so we can move forward. We're telling the story.

Mika Brzezinski: It's yes or no.
Brzezinski probably thinks she was just being a dogged questioner, but while she was trying to confront the pastor over Trump's racism, she came off looking like she felt entitled to talk to him any old way she pleased. When she finally eased up off of him for a second, Burns answered that he didn't think Trump's comments were racist, and compared them to "real racism" like the re-raising of the Confederate Flag in Charleston, South Carolina this year.
Reverend Al Sharpton then reminded Burns that Sen. Tim Scott (R-SC) had no problem identifying Trump's comments as racist, and was in the process of asking Pastor Burns a series of questions when he was interrupted, too:
Have a tip we should know? tips@mediaite.com