Donald Trump Lawyer: Tax Returns Show No Russian Income 'With Few Exceptions'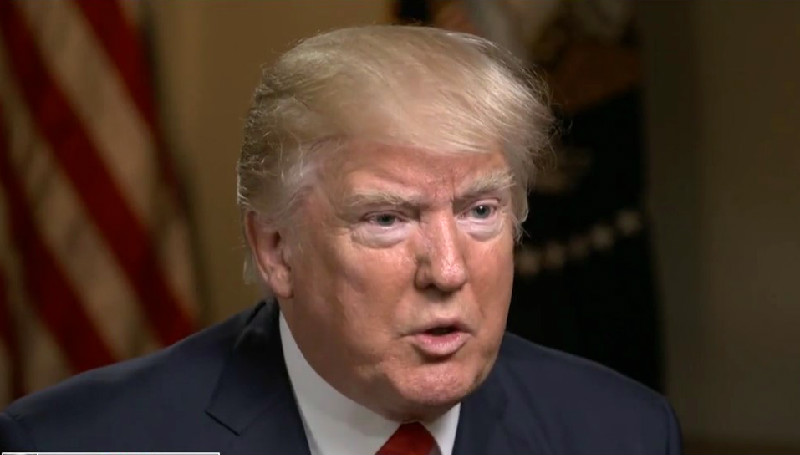 Lawyers for President Donald Trump have told reporters that after reviewing the last 10 years of his tax returns, they have concluded that they do not reflect "any income of any type from Russian sources," but there are exceptions:
BREAKING: Trump lawyer: Tax returns from past 10 years show no "income of any type from Russian sources," with few exceptions.

— The Associated Press (@AP) May 12, 2017
Associated Press reports that they received a letter saying that Trump doesn't owe money to Russian lenders and has "no equity investment by Russians in entities controlled by Trump." AP made a point of noting how the president's lawyer did not provide any copies of his elusive tax returns, which makes independent verification more difficult to ascertain.
Over the past week, Trump has claimed that he had a "certified letter" that he said would prove he has no current business connections with Russia. Trump said he would provide this letter to Senator Lindsey Graham, who is currently heading the Senate subcommittee looking into Russia's campaign to meddle with the 2016 election.
While AP notes that the letter doesn't mention the 2013 Miss Universe pageant or Trump's multi-million dollar property deal with a Russian billionaire in 2008, the Twitterverse has so many comments and questions on what kind of "exceptions" are at issue here:
Exceptions????? That's the story. Plus, the issue is not necessarily income, but investments, loans, etc. https://t.co/oOdnNystWH

— David Corn (@DavidCornDC) May 12, 2017
Besides the exceptions, no exceptions. https://t.co/spxlPWAAAV

— Jane Coaston (@cjane87) May 12, 2017
Reminds of Paul O'Neill line that history of nuclear power safety is great with the exception of Three Mile Island and Chernobyl https://t.co/8ezdpvKbPl

— Glenn Kessler (@GlennKesslerWP) May 12, 2017
"I am a totally innocent," with few exceptions

— Chris Cillizza (@CillizzaCNN) May 12, 2017
few exceptions meaning Trump lawyer didn't see all 10 returns, or that Trump has in fact had income from Russian source? https://t.co/FMeEhgbotN

— John Harwood (@JohnJHarwood) May 12, 2017
Bill Clinton was completely faithful to Hillary Clinton, with few exceptions https://t.co/ZWC6YIlzQO

— Ben Shapiro (@benshapiro) May 12, 2017
So you've just admitted you have income from Russian sources. https://t.co/0Wn2XNNdd2

— Anthony De Rosa ? (@Anthony) May 12, 2017
?‍♂️ Hi, yes, I have a question about those "few exceptions"… https://t.co/32E4EA9AGQ

— Hunter Schwarz (@hunterschwarz) May 12, 2017
That's come careful language right there. What exceptions? What about loans? What about beyond 10 years? https://t.co/TCRYuVhY5s

— Bradd Jaffy (@BraddJaffy) May 12, 2017
Trump previously promised to release his tax returns after the conclusion of an IRS audit, but he recently commented that he may not release them until he leaves office. The letter about Trump's taxes comes as the president continues to face pressure over the timing of James Comey's firing from the FBI.
UPDATE – 12:50 p.m. EST: Here's the letter submitted by Trump's lawyers:
So this letter from Trump's attorney RE: Russian biz interests (obtained by @PeterAlexander) is dated March 8 –> pic.twitter.com/ubJjBhP6rS

— Frank Thorp V (@frankthorp) May 12, 2017
[Image via screengrab]
— —
>> Follow Ken Meyer (@KenMeyer91) on Twitter
Have a tip we should know? tips@mediaite.com