Donna Brazile: I Thought About Replacing Hillary With Joe Biden as 2016 Dem Nominee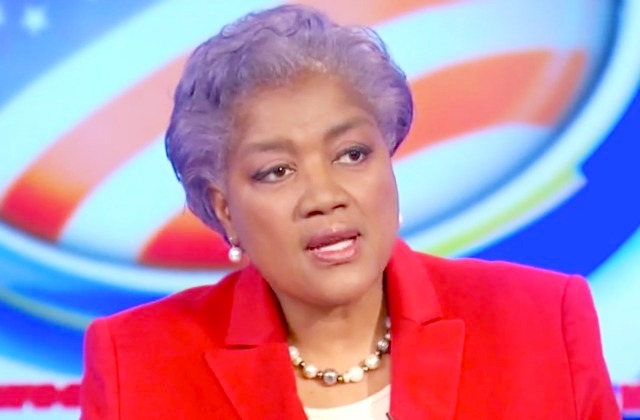 What?!
Following publication of an explosive excerpt from Donna Brazile's upcoming memoir in which she claimed she "found proof" that Hillary Clinton "rigged" the 2016 Democratic presidential nomination process — something she's been backpedaling from as evidence shows she may have greatly exaggerated her claims — another detail from her book has come out. And man is it a whopper!
According to the Washington Post, the former interim Democratic National Committee chair says she considered replacing Hillary Clinton as the Democratic presidential nominee following Clinton's highly publicized fainting spell in September 2016.
In an explosive new memoir, Brazile details widespread dysfunction and dissension throughout the Democratic Party, including secret deliberations over using her powers as interim DNC chair to initiate the removal of Clinton and running mate Sen. Tim Kaine (Va.) from the ticket after Clinton's Sept. 11, 2016, collapse in New York City.

Brazile writes that she considered a dozen combinations to replace the nominees and settled on Biden and Sen. Cory Booker (N.J.), the duo she felt most certain would win over enough working-class voters to defeat Republican Donald Trump. But then, she writes, "I thought of Hillary, and all the women in the country who were so proud of and excited about her. I could not do this to them."
Brazile added that she saw Clinton as "well-intentioned" but someone who was prone to making "Stiff" and "Stupid" blunders with her messaging.
Following this bombshell revelation, there was quite a reaction on Twitter, largely along the lines of "What the heck?!":
Donna Brazile considered ignoring the votes of not just nearly 17 million Clinton voters, but also those of over 13 million Sanders voters

— Dana Houle (@DanaHoule) November 4, 2017
In Donna Brazile's next book she needs to reveal the DNC's secret Donna Brazile Gets To Choose The Nominee agreement.

— Daniel Dale (@ddale8) November 4, 2017
I don't follow. @donnabrazile, you were gonna unilaterally choose the nominee to replace Clinton? https://t.co/0jtfEBPYnX

— Sam Stein (@samstein) November 4, 2017
Just when you thought it couldn't get any crazier, in walks Donna Brazile. https://t.co/QXUsmagHgs

— Christopher Bouzy (@cbouzy) November 4, 2017
Okay. Done with Donna Brazile. If I want dishonest, self-serving, and loony, I'll switch parties. Moving on.

— Mark Harris (@MarkHarrisNYC) November 4, 2017
That means Donna Brazile would've been cool not only ignoring SEVENTEEN million Clinton voters…but THIRTEEN million Sanders voters too. pic.twitter.com/3yQZ1aGSJm

— Mikel Jollett (@Mikel_Jollett) November 4, 2017
The Donna Brazile-Carter Page political talk show for CNN is gonna be so lit.

— Daniel W. Drezner (@dandrezner) November 4, 2017
Donna Brazile: "I contemplated telling the Atlanta Falcons to not get comfortable after obtaining a 25 point lead in the first half"

— Joe Perticone (@JoePerticone) November 4, 2017
[image via screengrab]
—
Follow Justin Baragona on Twitter: @justinbaragona
Have a tip we should know? tips@mediaite.com