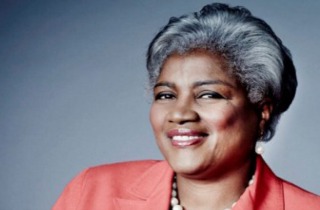 What do the midterm elections have to do with the killing of black 18-year-old Michael Brown in Ferguson, Mo.? Ask CNN contributor and Democratic National Committee vice chairwoman Donna Brazile.
The politicization of Ferguson in the small world of cable news has been limited to liberals claiming the incident was racially motivated and conservatives leaping to the defense of Darren Wilson, the white officer who shot Brown. That was until Tuesday, when Brazile began encouraging her followers to use Ferguson as inspiration to vote in the November midterm elections.
"We have to be passionate about the upcoming election," Brazile tweeted. "We have to feel it matters, that our vote matters. We have to own it." She included the #Ferguson hashtag.
Brazile followed up in another tweet: "Our vote is our voice. That means we have to know who we're voting for and why. So, get involve. Get engaged. Because you matter. #Ferguson"
She continued tweeting about the midterms but inexplicably changed the hashtag to #Vote2014.
"It takes courage to knock on doors, to call up friends and neighbors, to stir the hearts and minds. To cut through the negativity. #Vote2014"
"When we go out and vote, we are standing up for ourselves, individually, but also standing up for our kids and their future. #vote2014"
The Aug. 9 shooting started a national dialogue about the militarization of police forces but otherwise has had mostly local consequences in terms of electoral politics. The governor of Missouri is a Democrat his term goes through 2016.
Clarie McCaskill, the state's senior senator is also a Democrat and her seat is safe since she's not up for reelection this year. The state's junior senator, Roy Blunt, is a Republican but he is not up for reelection either, so his seat is also safe.
That leaves Rep. William Lacy Clay, the Democrat who represents Ferguson. Is Brazile calling for Clay to be unseated?
We've requested comment from Brazile. Tweets below:
We have to be passionate about the upcoming election. We have to feel it matters, that our vote matters. We have to own it. #Ferguson

— Donna Brazile (@donnabrazile) August 27, 2014
Our vote is our voice. That means we have to know who we're voting for and why. So, get involve. Get engaged. Because you matter. #Ferguson

— Donna Brazile (@donnabrazile) August 27, 2014
[Image via Twitter @DonnaBrazile]
— —
>> Follow Eddie Scarry (@escarry) on Twitter
Have a tip we should know? tips@mediaite.com