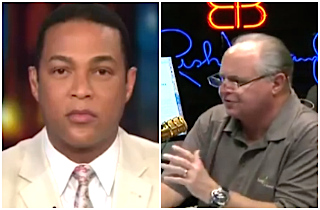 Rush Limbaugh has made a point of banning any MSNBC audio from his show, but he hasn't done the same with CNN. And today he explained the chief reason he hasn't banned CNN from his air yet is because of anchor Don Lemon. And in case you're wondering if that means Limbaugh likes Lemon… you would be mistaken.
Yesterday Limbaugh went after CNN for what he deemed a "flat-out irresponsible" hyping of that alleged audio from the time Michael Brown was shot dead. But today, CNN experts began speculating the audio may be a hoax, and Limbaugh pounced.
But in particular, he targeted Lemon and his coverage of the alleged audio, and explained why he can't bring himself to ban CNN audio from his show just yet:
"Don Lemon, I mean, this guy's a gem. We love him here. I hope nothing ever happens to him. He is the one reason I would never ban audio soundbites of CNN. He's the guy who asked if a black hole might have swallowed up that missing Malaysian Airlines flight."
Limbaugh also suggested Lemon was hypocritical for holding on reporting the video of Michael Brown robbing a convenience store but going forward with the audio.
Lemon and Limbaugh have feuded before; Lemon called Limbaugh a "stunt king" for how he covered the Donald Sterling saga, and Limbaugh fired back with a cheap shot at Lemon's sexuality.
Listen to the audio below, via The Rush Limbaugh Show:
[h/t Daily Rushbo]
[image via screengrab]
— —
Follow Josh Feldman on Twitter: @feldmaniac
Have a tip we should know? tips@mediaite.com
Josh Feldman - Senior Editor