Don't Claim He's the Most Transparent Ever: CNN Anchor Battles RNC Spox Over Trump Transition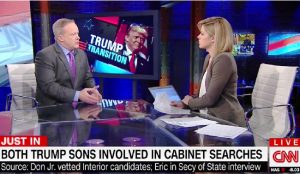 Things got awfully heated today between CNN host Kate Bolduan and Republican National Committee spokesman Sean Spicer regarding potential conflicts of interest surrounding President-elect Donald Trump and his transition team, specifically when it comes to the use of his family members.
Early on in the interview, Bolduan pressed Spicer to answer why Trump's sons have been involved in interviewing candidates for Cabinet positions considering they have been tapped to run their father's businesses. Spicer brushed it off by saying Donald Trump makes the final decisions and he relies on many other people besides his family. He also insisted that the Trump transition team has been "unbelievably transparent" about everything.
The CNN anchor kept hammering away at the appearance of conflict of interest, asking Spicer "do you understand how people could see real problems with conflict of interest with his family members?" He retorted that conflicts of interest arise when someone is being "sneaky" and "shady."
At one point, trying to make the case that Trump has been transparent and not shady, the RNC spox brought up the Trump Tower lobby camera, stating everyone can see who comes to visit the soon-to-be POTUS.
"Having a camera in the elevator bank of Trump Tower does not negate conflict of interest," Bolduan shot back.
When Spicer countered that Trump has shown a level of transparency that has exceeded any modern president, Bolduan was apoplectic, bringing up the lack of public knowledge into Trump's businesses, especially since he hasn't released his tax returns. "And I know he never will," she added. "Don't claim he's the most transparent president-elect of all time!"
They continued to battle for a few minutes after over issues like nepotism laws and approval ratings.
CORRECTION 1:52 PM ET: We originally included the following line and attributed it to Bolduan: "She also pointed out that conflicts of interest arise when it seems like you are being "shady" and "sneaky."" The CNN host never said these words. Instead, Spicer brought this up.
We have updated the article to accurately reflect the conversation and regret the error.
Watch the clip above, via CNN.
[image via screengrab]
–
Follow Justin Baragona on Twitter: @justinbaragona
Have a tip we should know? tips@mediaite.com