Drudge Report Lead Story Shows Hillary Clinton Falling… in Photo From Six Months Ago
The lead story on conservative media powerhouse Drudge Report for the past twelve hours has shown what appears to be aides for Hillary Clinton helping her up the stairs: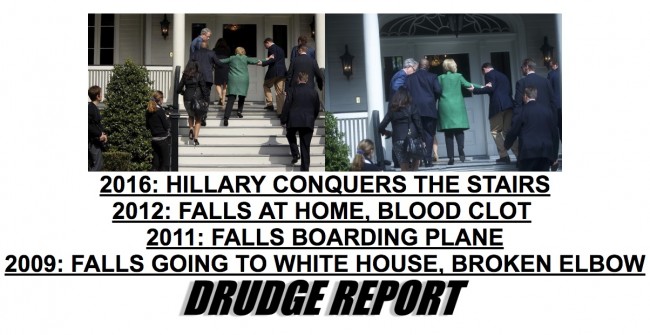 Dripping with its typical Matt Drudge snark, the top headline reads, "HILLARY CONQUERS THE STAIRS." The link for that story redirects to a site called The American Mirror by Kyle Olson, which claims:
The questionable health condition of Hillary Clinton should be a major issue of the 2016 campaign.

The latest evidence comes in the form of Clinton being helped up a set of stairs by multiple individuals outside what appears to be a home.

The photos, published by Reuters and Getty, show the 68-year-old candidate with aides holding her arms as she ascends the stairs.
The article was published yesterday. The only problem?
The photo comes from a campaign stop in South Carolina on February 24th. The original caption — discovered by super sleuths on Reddit, of course — that went along the photo reads:
Democratic Presidential candidate, former Secretary of State Hillary Clinton visits the non-profit SC Strong, a 2 year residential facility that helps former felons, substance abusers, and homeless move into self-sufficiency February 24, 2016 in North Charleston. The South Carolina Democratic Presidential Primary is held on February 27.
#HillarysHealth even began trending on Twitter as a result of the flap.
CNN's Brian Stelter has been hot on the case since yesterday:
This photo is from February 24. She slipped. But it's suddenly getting a lot of right wing media attention today https://t.co/zdV4zAhKkl

— Brian Stelter (@brianstelter) August 7, 2016
Pro-Trump accounts shared the out-of-context pic last night. Then @American_Mirror wrote a "SHOCK PHOTO" blog post https://t.co/45dHzODb3C

— Brian Stelter (@brianstelter) August 7, 2016
Now it's the lead on @DRUDGE_REPORT "PHOTOS REVEALED."

Huh? "Clinton slips" pics were published in February. Proof: https://t.co/jCcI6lhW1w

— Brian Stelter (@brianstelter) August 7, 2016
12 hours later, @DRUDGE_REPORT is still leading with out-of-context Clinton photo, as if it's new. Readers not told that it's 6 months old.

— Brian Stelter (@brianstelter) August 8, 2016
The other links at the top of the Drudge Report home page point back to a video on YouTube that shows the former Secretary of State falling as she boards Air Force One, and a New York Times link about a 2013 treatment for a blood clot.
Hillary Clinton leads Donald Trump by 8 percentage points according to the latest ABC News/Washington Post poll, and Fox News guest Larry Sabato last week predicted a "very healthy win" in the electoral college for the former Secretary of State, 347 electoral votes to 191.
Have a tip we should know? tips@mediaite.com