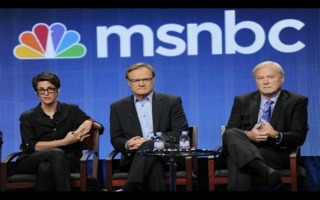 This past weekend's announcement, that MSNBC's host Dylan Ratigan will leave MSNBC near the end of June, signals that the left-leaning cable news network has fully embraced its liberal identity. MSNBC began the journey to progressive opinion network long ago, but the transition is finally complete with the loss of Ratigan.

RELATED: Dylan Ratigan Explains Leaving MSNBC: 'The Timing Couldn't Be Better'
In early April, a detailed chronicling of MSNBC's journey from news to liberal POV network by Inside Cable News showed how MSNBC President Phil Griffin abandoned his 2010 attempts to turn MSNBC dayside into a headline news network.
Today, that journey is complete.
Ratigan's program, while not a ratings powerhouse, will be missed. His show – which could be counted on to be both lovably quixotic and even poetic – represented a departure from MNBC's partisan point-of-view programming that characterizes the rest of the 3 – 11 p.m. lineups.
Ratigan's address to the Occupy Wall Street protesters in October of last year left no one guessing about his political philosophy, but his program was not merely a defense of the latest White House taking point.
In a way few of his MSNBC contemporaries did, Ratigan oftentimes took issue with the Obama administration (as early as last Thursday, Ratigan invited Wikileaker PFC Bradley Manning's friend on his program to criticize the government's prosecution of his case).
Ratigan explained his departure to his fans on his website over the weekend, saying that he will now have more time to focus on his grievances with the political process rather than the political horserace that dominates cable news journalism during an election year.
While Ratigan's departure has implications for his career, it has even broader implications for the network he leaves behind after June 22. By July, MSNBC will be an entirely progressive network with lineup of uniformly liberal hosts.
MSNBC will be testing new hosts to fill the 3 p.m. block of programming that Martin Bashir will leave behind to take over Ratigan's 4 p.m. slot. Rest assured, the host or hosts that eventually take over the 3 p.m. block will be a progressive.
MSNBC's transition to liberal network dovetails with Fox News Channel's embrace of the successful format of conservative opinion programming which dominates their primetime.
Ratigan was, in some ways, MSNBC's version of Shepard Smith – always ready to throw a curveball at his audience and perfectly willing to say precisely what he thought, even if he knew it was not his network's preferred editorial vision.
That kind of informed dissent is increasingly coming out of fashion on cable news networks.
Follow Noah Rothman on Twitter
This is an opinion piece. The views expressed in this article are those of just the author.