E-Mail Sent To Servicemen And Women Reveals How Military Is Handling DADT Repeal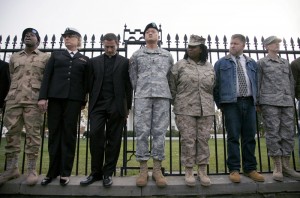 With Don't Ask, Don't Tell finally meeting its demise this past weekend, many have been curious to see how our armed forces would handle the change. Prior to the historic vote on Saturday, some people made rather condescending theories that our military would be thrown into utter chaos. Others predicted that the soldiers and superiors would react with class and professionalism. A Redditor who happens to also be in the Air Force, uploaded a screen shot of an email he or she received along with all the other service men and women and it proves, shocker of shockers, that the latter prediction appears to be true.
The letter, sent by Air Force Chief of Staff Norton A. Schwartz, begins by reminding soldiers that, just because the repeal has passed, doesn't mean it will go into effect immediately. Soldiers will have to continue not "telling" for a couple of months. With that business out of the way (similar to how Robert Gibbs handled his statement in a press conference, as you can see in the C-Span clip below) and after promising tons of educational material will be forthcoming, Schwartz goes on to address the challenges of integration as well as stressing his feeling that his forces will adapt well.
"Effective leadership, however, is key to implementing this change and success will rest on the shoulders of senior leaders like me, commanders, chiefs, first sergeants, and supervisors. The standards of conduct we expect of all Airmen will not change. Moreover, we will continue to treat each other, as members of the Air Force family, with dignity and respect.

I know each of you will approach this issue professionally and that you will continue to adhere faithfully to our core values of Integrity, Service before Self, and Excellence in all we do. By following our core values, we will successfully implement this change with the same unparalleled professionalism we have demonstrated with every transformation we have undertaken in peace and war."
Read the full email at Reddit here.
Meanwhile, Gen. James Amos, who had suggested the repeal could be a "distraction" as recently as last week, sent out a statement showing he is more than ready to work under the new arrangement. Even more so, he is planning to "lead" the integration process. Here's the quote from Stars and Stripes:
"I, and the Sergeant Major of the Marine Corps [Carlton Kent], will personally lead this effort, thus ensuring the respect and dignity due all Marines," Amos said. "On this matter, we look forward to further demonstrating to the American people the discipline and loyalty that have been the hallmark of the United States Marine Corps for over 235 years."
Of course, it remains to be seen what effects there will be once the repeal actually begins, but, with the knowledge of these quotes and centuries of unparalleled service, the safe bet would probably be on the professionalism of the United States armed forces.
Watch Gibbs' statements on the repeal from C-Span below:
Have a tip we should know? tips@mediaite.com