Ed Schultz On Being Named One Of The 'Least Influential People Alive': 'Kiss My Ass, GQ'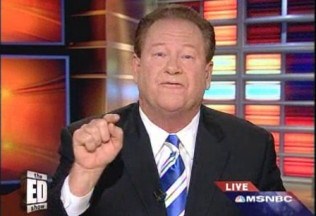 We have to guess that, when the editors of GQ put together their delightfully evil list of the "Least Influential People Alive," they were just waiting, salivating, for some sort of reaction from those whose delicate egos they so callously bruised. Enter Ed Schultz. GQ included the liberal pundit on their list, asking readers, "Do you watch The Ed Show on MSNBC? Of course you don't. No one does."
Well, it would appear that Schultz is not too happy about that. And thinks it might have something to do with Anderson Cooper. Because, obviously.
RELATED: MSNBC's Ed Schultz, Tina Brown Among GQ's 2011 'Least Influential People Alive' List
Here's what the host had to say about his inclusion on the list:
And, you know, look. You do a cable show, you have a radio show, whatever. If you're fat, you've got red hair, look, they're going to pick on you. That's the way it is. And I'm ok with that. Just spell the last name right.

Now, I know that Anderson Cooper floats around in that GQ crowd. I don't know if he's behind it, or whether their publicist at CNN… Let me just say: I'm kicking his ass.

By the way, I'm very influential. You can go ask the governor of Ohio, and it won't be long before you can ask the governor of Wisconsin. So kiss my ass, GQ.
I'm going to try to work "I'm big in Ohio" into conversation fairly soon. You?
Have a listen to Schultz's show, via Radio Equalizer:
h/t Radio Equalizer
Have a tip we should know? tips@mediaite.com