Edward Snowden Requests Asylum In Ecuador, Tweets Ecuadorian Foreign Minister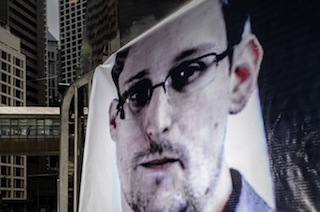 Ecuadorian Foreign Minister Ricardo Patiño Aroca tweeted a few minutes ago that Edward Snowden had requested asylum in Ecuador: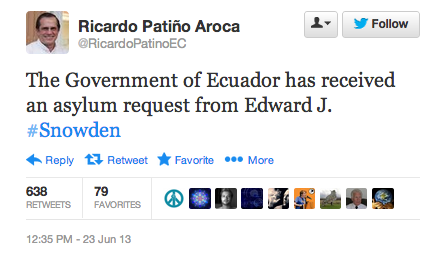 This (unconfirmed) report appears to answer the question of the morning: where was Edward Snowden bound now that he had left Hong Kong, where he has been hiding out since disclosing classified information about American surveillance efforts?
Ecuador has previously granted asylum to Julian Assange, the charismatic authority of Wikileaks, who has been living in London's Ecuadorian Embassy for almost exactly one year while awaiting permission from England to travel. Ecuador has been friendly toward Wikileaks since information revealed through the organization's massive cable dump in 2011 resulted in the expulsion of the U.S. ambassador to Ecuador.
Wikileaks, which says it has been escorting Snowden on his trip, posted the following statement:
Mr Edward Snowden, the American whistleblower who exposed evidence of a global surveillance regime conducted by US and UK intelligence agencies, has left Hong Kong legally. He is bound for the Republic of Ecuador via a safe route for the purposes of asylum, and is being escorted by diplomats and legal advisors from WikiLeaks.
According to the Atlantic's live-blog of Snowden's world tour, the NSA leaker may not be able to leave Russia without a valid passport, and should not have been able to do so from Hong Kong.
Speculation is that Hong Kong simply wanted rid of Snowden, who had them in an uncomfortable spot between China and the U.S.
—
>> Follow Evan McMurry (@evanmcmurry) on Twitter
Have a tip we should know? tips@mediaite.com