Hong Kong Press Release Boldly Defends Snowden Departure, Accuses U.S. Of Cyberattacks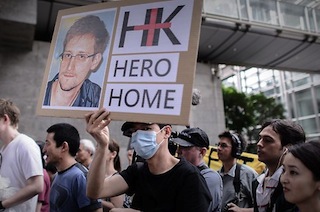 The government of Hong Kong fired off a pugnacious press release following the departure of Edward Snowden Sunday morning, boldly defending its decision to allow him to leave the country, and pushing back at the United States' request to apprehend the NSA leaker by accusing the U.S. of hacking Hong Kong computer systems.
On Friday, after the United States issued a warrant for Snowden's arrest, scrutiny turned to whether the small, Chinese-controlled country would side with Beijing's general anti-American stance by allowing Snowden to continue hiding out in their country, or seek to maintain close ties with the U.S. by arresting him.
After Snowden had already left the country, Hong Kong released the following:
Since the documents provided by the US Government did not fully comply with the legal requirements under Hong Kong law, the HKSAR Government has requested the US Government to provide additional information so that the Department of Justice could consider whether the US Government's request can meet the relevant legal conditions. As the HKSAR Government has yet to have sufficient information to process the request for provisional warrant of arrest, there is no legal basis to restrict Mr Snowden from leaving Hong Kong.
The last paragraph alleged U.S.-led hacking of Hong Kong computer networks:
The HKSAR Government has formally written to the US Government requesting clarification on earlier reports about the hacking of computer systems in Hong Kong by US government agencies. The HKSAR Government will continue to follow up on the matter so as to protect the legal rights of the people of Hong Kong.
To Hong Kong's defiance of the U.S. may be added the possibility that Russian President Vladimir Putin cooperated with Snowden in letting him land in Moscow, as Chuck Schumer has intimated is the case.
Snowden has reportedly requested asylum in Ecuador.
Read the full statement below: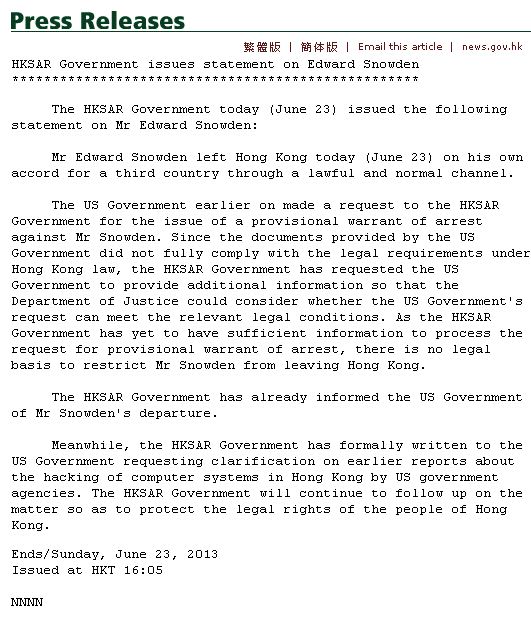 —
>> Follow Evan McMurry (@evanmcmurry) on Twitter
Have a tip we should know? tips@mediaite.com