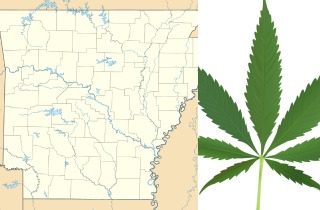 It must be hard if you are a marijuana lover in the state of Arkansas. Not only is it illegal to sell, cultivate, or possess the recreational drug, but when you're tasked with submitting proposals to the state Attorney General, apparently you need to use proper grammar and spelling.
At least, that was the Arkansas Attorney General's rationale for rejecting one such proposal on Monday. AG Leslie Rutledge released the following opinion:
Finally, amending the Arkansas Constitution is a serious matter that merits greater attention to detail than evidenced by the proposal, which contains several errors of spelling and syntax that tend to obscure its meaning. I urge you to review the proposal carefully to locate and correct such errors in the event you redesign and resubmit the proposal.
Monday's proposal was reportedly submitted by Mary Berry of Summit, Arkansas. Previous proposals have been submitted by active lobbyist Robert Reed, who has been a longtime advocate for legalizing marijuana in his home state. He has submitted proposals to Rutledge before, including the Agricultural Hemp and Medical Cannabis Amendment and the End Cannabis Prohibition Amendment. All have been rejected.
But Monday's opinion seems to be the first that may shed light on the bud root of the problem. Perhaps Berry should consider having a friend give a basic once-over of the proposal before it's, you know, submitted to the state Attorney General. That, or she could just pack it up and move to Oregon, the newest state that's seeing a boom in pot sales.
[h/t Raw Story]
[images via Wikipedia Commons]
>> Follow J.D. Durkin on Twitter (@MediaiteJD)
Have a tip we should know? tips@mediaite.com