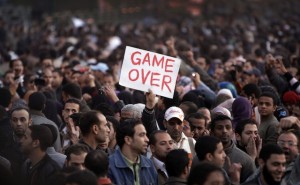 Throngs of protesters in Tahrir Square erupted in joy as they have learned President Hosni Mubarak has relinquished his power according to a recent statement from Egyptian Vice President Omar Souleyman. Immediately, news commentators are calling this Egypt's "Berlin Wall Moment", indeed this is an unprecedented moment not just for Egypt, but for the Arab world as well.
Rumors had been spreading since yesterday that Egyptian protesters angry that Mubarak had not officially stepped down were moving towards the presidential palaces. In advance of the predicted conflict, some where already calling today Bloody Friday, in advance of the expected bloodshed. Perhaps for fear of this sort of violence, news broke earlier today that a statement would be forthcoming from the Egyptian presidency (notably, not from the president) which appeared to mollify the protesters in Cairo.
Omar Souleyman stepped to a microphone, broadcast live on Egyptian television, and announced that Mubarak was effectively relinquishing control of the government to the Egyptian military. "In these difficult circumstances that the country is passing through, President Hosni Mubarak has decided to leave the position of the presidency," adding "He has commissioned the armed forces council to direct the issues of the state." While the first chapter of this revolution appears to have ended, just as many questions as to what is next for the Arabic country.
MSNBC's Ron Allen reports from Tahrir Square that there is no violence, and that the military present are joining with protesters in celebrating the news. "This is what freedom looks like!"
Watch Fox New's report of how Tahrir Square reacted when it heard the news today (oh boy). (Via FoxNewsInsider)
Have a tip we should know? tips@mediaite.com
Colby Hall - Founding Editor