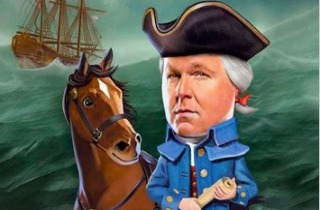 A third-grade teacher recently called into the Rush Limbaugh show to tell the host she's using his two children's books to get her students interested in American history.
The teacher, who called herself Ivy, said her husband bought her a copy of Rush Revere and the Brave Pilgrims. "Okay, how am I gonna incorporate this book into the classroom, because the kids need to hear it," Ivy said she thought to herself. "They need to read this book."
Ivy said her third-grade students don't learn about Pilgrims, so she found another way. From the transcript:
"[W]hat I decided to do was to use your author's note that explains the principles of the founders in our country as a way to introduce the Civil War. And then from there, I decided, well, I'm gonna go ahead and I'm gonna read a little bit of this book 'cause I need these kids to get excited about it. … I used that as a way to introduce the Civil War, you know, because we were about to enter a discussion on the time when slavery existed in our country, but because of what you said in the book and the way that you explained the Founders' passion for our country, it was because of that that slavery inevitably was abolished. So I felt like that would be a good way to get some conversation going."
The author's note in Limbaugh's book attempts to explain "American Exceptionalism." In short, it says America is the first country founded on the idea that "all men are created equal."
Sounds harmless enough. But that a teacher would incorporate a Limbaugh book into the classroom was an affront The Atlantic's Conor Friedersdorf. He writes of Ivy's call into the show:
Her heart seems to be in the right place. On the other hand, while the incompatibility of slavery with America's founding documents and professed values certainly played a role in abolitionism and emancipation, other countries without our Founding principles also abolished slavery, some of them before the United States. And it's especially bizarre to argue that our Founding values made the abolishment of slavery "inevitable" when, in fact, those values weren't, in fact, sufficient to end slavery prior to the Civil War, or after the slave states seceded, rejecting those values, and attempted to start a new, slavery-embracing system. That ought to be apparent to a South Carolinian teaching Civil War history. Union values weren't enough to end slavery–union guns and cannonballs were needed too.
It ought to be apparent that Friedersdorf needs a Xanax.
Everything he says is true. But the gory details of the Civil Ware don't quite fit into a typical third-grade history lesson. (Whether that's a problem is a different discussion.)
You can't help but imagine Friedersdorf teaching little children a lesson would look a lot like Fire Marshall Bill.
Ivy went on in the call to say that she also read Limbaugh's second book, Rush Revere and the First Patriots, to her students.
"I'd love to know what alternative book she passed over to make room for Rush," indignant Friedersdorf writes.
Even though Ivy never said she's using the books as comprehensive texts to understanding America's seedy past. She said she's using them as a way to "get some conversation going" on the Civil War and to "review" the Revolutionary War.
Ivy didn't say she's using the illustrated Limbaugh books — which feature a talking horse and a fictional protagonist named Rush Revere, who has an oversized head — as a study guide or a test template. She isn't using the daily horoscopes to teach science.
Even if it was created by Rush Limbaugh, there's nothing wrong with using a talking animal to get kids interested in learning. That's what Sesame Street is.
[Image via Amazon]
— —
>> Follow Eddie Scarry (@eScarry) on Twitter
Have a tip we should know? tips@mediaite.com