Eliot Spitzer Isn't Too Concerned Over Viewpoint Ratings: 'My Mom Watches, She's Happy'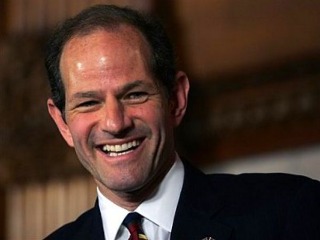 Former New York governor Eliot Spitzer has a show on Current TV, called Viewpoint. His mother watches it. This is already my favorite post of 2012.
Capital NY caught up with the cable host VIA conference call, during which Spitzer spoke about how his show is doing now that the dust surrounding Keith Olbermman's gently chandelier-lit exit from Current has more or less settled.
RELATED: Keith Olbermann Fired For Breach Of Contract; Olbermann Responds To Firing
Spitzer said that Viewpoint isn't "fundamentally dissimilar" from his former CNN show — which was ultimately canceled — but that it will be "more openly ideological," which makes sense for a program at a network that is transparent about its progressive ideological leaning.
Spitzer also shared that his show is a already a hit among those who matter:
Look, my mom watches, she's happy. I've got a bunch of friends who love it. I don't have numerical, or geographic, or any other targets at this point. We are working to build a foundation. It takes time. We have work to do to let people know where we are.
The former Governor said he hasn't spoken with Olbermann since the latter's hasty exit from the network. He added that, when it comes to cultivating a presence on television, "I've watched a lot of different reporters or anchors or people on TV and tried to figure out what makes them so persuasive or interesting. … I can't be any one of 'em. I don't pretend that I can bring the effervescence of Katie Couric or the smooth charm of Anderson Cooper or the right-wing stuff of Bill O'Reilly. You have to be different." Just like mama always said.
RELATED: Eliot Spitzer's Viewpoint Premieres To Anemic Ratings On Current TV
As we reported earlier, Spitzer's show premiered with a whimper rather than a bang — 47,000 total viewers and a mere 10,000 in demo — even despite all the drama and Schadenfreude surrounding Olbermann's problems with Current and vice-versa.
You can now finally follow Spitzer on Twitter at @CurrentSpitzer. He has yet to refer to anyone as a "douche" via the social media platform.
h/t Capital NY
Have a tip we should know? tips@mediaite.com