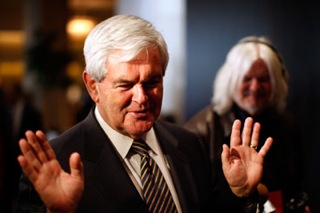 Newt Gingrich has finally put an end to one of the many reasons his campaign is no longer taken seriously. According to the financial disclosure forms his campaign recently submitted to the Federal Election Commission, Gingrich has shut down his Tiffany's credit account. The account was the source of much mockery several months ago as it was first reported that he owed the store half a million dollars, with Gingrich refusing to answer any questions about it.
According to the Wall Street Journal, this round of FEC reports shows that Gingrich closed his entire account with the store, perhaps in an attempt to keep his financial house in order:
The former House speaker spent the first weeks of his presidential campaign defending the existence of the Tiffany & Co. account. The disclosures do not give a date for when Mr. Gingrich closed the account. Mr. Gingrich's campaign declined to comment.

Mr. Gingrich's campaign has since endured the mass resignation of its senior staff and disclosures that he already owes more than $1 million to former aides and outside vendors to his campaign. The former speaker owes nearly half of that debt to a company that books private airplanes.
The account's close does not end the mystery of what, exactly, Gingrich was spending so much money on at the legendary jewelry store, though it may explain what Gingrich was doing when cited at the store on Saturday. Among the other interesting things in his financial disclosures is the fact that the bulk of his income comes from Gingrich Productions, a media company. Yes, Newt Gingrich owns a media company– it "produces documentaries, including a recent film about what makes America unique – echoing a major theme of the former speaker's presidential campaign." It also serves to publish and promote both Newt and Callista Gingrich's several books.
The post notes that Gingrich and Rep. Ron Paul are the first to hand in their financial disclosure forms, though the Tiffany's story appears the most fascinating bit of information on either. As the rest roll in– especially those generating more funds from fewer sources– expect more potential controversy and attack ad fodder.
Have a tip we should know? tips@mediaite.com