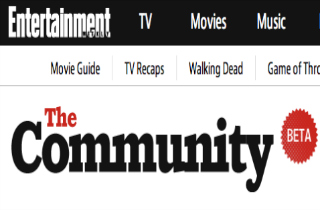 One thing you just don't see enough of on the internet these days is average folks sharing their opinions on music and TV. Entertainment Weekly aims to change that with the announcement of their new blog The Community, which will pull talent from the amateurish ranks of the unwashed masses to supplement their regular, and traditionally good, entertainment coverage.
The news, as reported by DigiDay, finds the Time Inc. magazine property following in the footsteps of other publication-platform hybrids, like Forbes and The Huffington Post. Gawker recently began a similar experiment with their Kinja platform, from which reader-contributor posts are often shared into the larger stream of the network.
The new community blog roll out comes at a particularly tumultuous time for the media company (aka forever and always for the rest of our lives), as they announced last month that they would institute a restructuring that would spin the magazine holdings off from Time Warner, whose film and TV properties still do that weird media trick called "making money." The crunch is predicted to result in about 500 layoffs.
Tough business for the people losing their jobs, but nature, and content, abhor a vacuum, so many of the lost jobs will likely be filled, if the experiment pays offs. Not being paid off, however, are the the people who will be filling those jobs and producing the actual content, most of which so far on the beta version are recaps of television shows. (Also not being paid by EW is me, who interviewed for a job there last year, full disclosure.)
"The expansion here hopefully allows us to tap into new audiences who are increasingly having conversations in fragmented locations," Liz White, general manager of EW.com and People.com, told Digiday.
And to get free content, she didn't add, but plenty of critics, like Salon's Daniel D'addario are doing for her. She called the move "disgraceful":
There's something deeply disingenuous about opening up a website as a platform for young or eager writers to ply their trade for free when they're not expected to do anything new. Why would Entertainment Weekly hire any of the people contributing to the community page for free when they've already shown they're willing to do the work of a writer for free? Pardon me — not for free, as they'll have the "prestige" and "access to editors" that Entertainment Weekly promises.
With subscription rates down across the board, and no one seemingly willing to pay for magazines in print or online anymore, you can understand the company's inability to pay anyone. Time Warner experienced a mere 5% increase in revenue in the last quarter as compared to last year, creaking toward a laughable, piddling $8.57 billion (with $983 million in profit).
As Digiday's Lucia Moses writes, if all goes well, "the concept could be expanded to other Time Inc. brands. Conversations are already happening at People. It's not a stretch to imagine the idea applied to sports and lifestyle content." It's not a stretch to imagine the idea applied to everything.
— —
>> Luke O'Neil is a journalist and blogger in Boston. Follow him on Twitter (@lukeoneil47).
Have a tip we should know? tips@mediaite.com