EPA Official Cheated Agency Out of $1 Million While Claiming to Be CIA Agent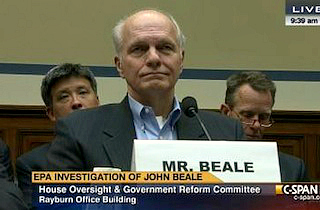 John Beale, a high-ranking EPA official and the highest-paid employee in the agency, will be charged on Wednesday for what prosecutors call "crimes of massive proportion," including defrauding the agency of almost $1 million over the past decade in phony absences and obscene travel expenses.
During several periods in which he simply did not show up to work, including one lapse that lasted eighteen months, Beale told his superiors that he was a CIA operative, and routinely explained his absences by claiming he had to go to Pakistan for intelligence work. (Apparently, the "I can't talk about that, I'm in the CIA" line actually worked.)
In fact, Beale had no connection to the intelligence organization, and according to NBC News, "He spent much of the time he was purportedly working for the CIA at his Northern Virginia home riding bikes, doing housework and reading books, or at a vacation house on Cape Cod."
The CIA tales appear to be part of a long series of deceptions; in one instance, Beale was gone for six months to work on an election project, during which he billed the EPA for five trips to California, where he was in fact visiting his parents.
During these periods, Beale continued to earn his salary of $206,000, out-earning his female superior along with everyone else at the agency. He also billed the agency over $200,000 in first-class airplane tickets and top-rate hotel and limousine expenses. Beale even continued to receive a salary after he retired, which was what finally drew the suspicion of a fellow agency official, whose investigation led to his arrest. (Pro-tip: if you're defrauding your agency, maybe don't invite your coworkers to a yacht party.) The investigation also chastised officials for "enabling" Beale's fraud by failing to check his various CIA stories or question his outlandish expenses.
Beale pleaded guilty in September. His lawyer will ask the court for leniency in sentencing, citing Beale's psychological evaluation, and his decades of work for the agency, which included rewriting the Clean Air Act and heading international conferences of climate change.
[h/t NBC News]
[Image via CSPAN]
——
>> Follow Evan McMurry (@evanmcmurry) on Twitter
Have a tip we should know? tips@mediaite.com