Erick Erickson Mocked For Endorsing Trump in 2020: 'Completes His 180' on #NeverTrump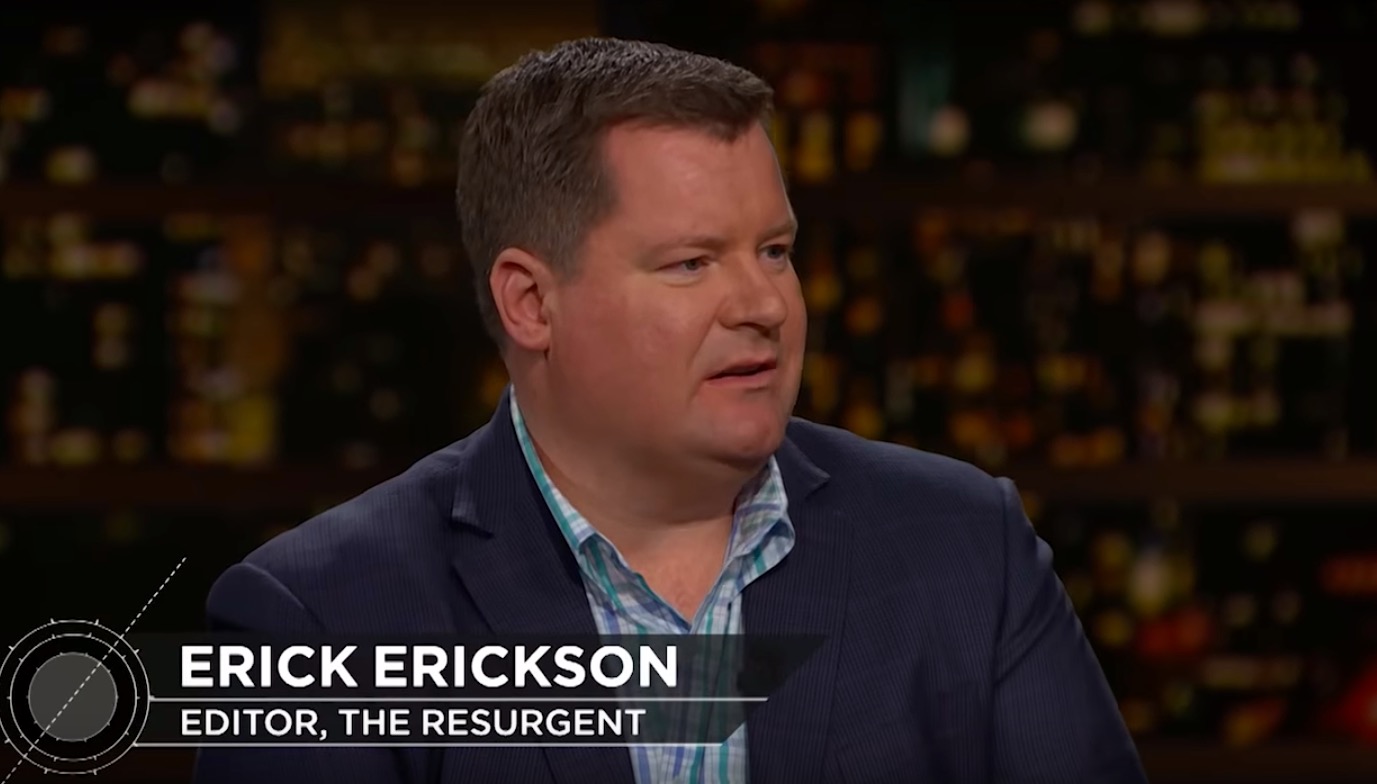 Conservative blogger Erick Erickson completed a full 180 on his "Never Trump" 2016 position Monday, publishing a post endorsing President Donald Trump in the 2020 election.
Three years ago this week, I declared myself #NeverTrump in 2016. Today, I'm endorsing President Trump and Vice President Pence for re-election in 2020 and am glad to help them on the trail as needed during Campaign 2020. https://t.co/7Tan0AUqhO

— Erick Erickson (@EWErickson) February 11, 2019
Erickson's cited Trump's socially conservative record in office as partial justification for the change.
"The President has shown himself to not share my faith convictions any more than the other side, but the President has shown he is willing to defend my faith convictions and is supportive of them," he wrote.
Erickson continued:
"In 2016, we knew who the Democrats were and were not sure of who Donald Trump was. Now we know both and I prefer this President to the alternative. I will vote for Donald Trump and Mike Pence. And, to be clear, it will not be just because of what the other side offers, but also because of what the Trump-Pence team has done. They've earned my vote."
Roughly two years ago, as Trump's popularity continued to grow during the GOP primaries, Erickson wrote a searing condemning to anyone who would stoop so low as to support the then top candidate: "As we have seen so far, those who are deluding themselves thinking that if they support Trump, he will support them, will instead find themselves slowly compromised on both their integrity and values."
Numerous media figures viciously mocked Erickson on Twitter for the complete reversal:
what a truly shocking development

— Rob Rousseau (@robrousseau) February 11, 2019
there's no point in being angry at Erickson, who honestly may be so dumb he just didn't realize he supported Trump this whole time. save your annoyance for for TV types who pretended to take his principles seriously. don't put this sad asshole on television

— Owen Ellickson (@onlxn) February 11, 2019
Give him a break. The more he has seen of Trump's autocracy, kleptocracy and kakistocracy, along with collusion and all-round idiocy, the more he sees that Trump is his kind of guy https://t.co/1MkzVl8QiL

— Norman Ornstein (@NormOrnstein) February 11, 2019
Never Erickson https://t.co/Kc0O7yeyKa

— Joshua Claybourn (@JoshuaClaybourn) February 11, 2019
He likes Trump's fascism. https://t.co/fk2WvarFcW

— Bruce Bartlett (@BruceBartlett) February 11, 2019
cc: Fox News executives

Best of luck, Erick. https://t.co/DyT9qWUQYN

— Adrenochrome Harvester (@ClenchedFisk) February 11, 2019
"Many of my center-right friends who, like me, continue to have concerns with this Administration, are driven in part by the bad reporting on this Administration," Erick Erickson writes as he completes his 180 on Trump. https://t.co/lQHuPqgDDA

— McKay Coppins (@mckaycoppins) February 11, 2019
So thrilled that Erick Erickson, whose head looks like a block of ham and who famously complained of getting a blister after walking ".75 miles", has done the full 180 and is now endorsing Trump. What changed his mind? The baby jails? The Khashoggi murder? The unrelenting racism?

— Jesse Hawken (@jessehawken) February 11, 2019
In today's episode of "The Sun Rose In The East" the author Erick Erickson discloses he has a medical condition causing spinelessness, but it is okay because he supports Ivanka Trump for President in 2024, who hails from the D Block State of #ADXFlorence. https://t.co/lXpZPlWbdH

— Christopher Suprun (@TheChrisSuprun) February 11, 2019
[image via screengrab]
Have a tip we should know? tips@mediaite.com