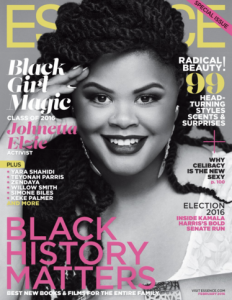 For its February edition, Essence lived up to its own standards in an interesting way: by putting a Black Lives Matter organizer on their cover.
Popular in print and online, the magazine "tells Black women's stories like no one else can," according to its own mission statement. "Authoritative and insightful, we bring you the Black woman's experience. We showcase the best of who we are and who we hope to be."
Putting Johnetta "Netta" Elzie on the cover stems from the topic of Black Lives Matter in America. Elzie herself is no stranger to controversy, spending a hefty chunk of each day battling it out with Twitter trolls in the name of public education for her 89,000 followers. The 26-year-old rose to prominence during the protests that followed the killing of Mike Brown in Ferguson, Missouri, using her Twitter account as a way to share photos and descriptions from the scene with a curious and captivated public. From there, she became a staple on the protest scene, renowned for her organizing skills. After meeting with presidential hopefuls, being named to Fortune's list of greatest leaders, and creating a ten-point plan to reduce police violence, she has made it clear she is here to stay.
By appearing on one of the special #BlackGirlMagic covers that Essence is rolling out this month, Elzie joins a list of past covergirls including Solange, Kerry Washington, Janelle Monáe, and First Lady Michelle Obama, among many other influencers. Of the three women selected for the string of covers, Elzie is the only one who does not work in the entertainment industry; she joins actresses Teyona Parris and Yara Shahidi. A celebrity in her own right who has been profiled in The Atlantic and appeared on MSNBC to discuss the next wave of the civil rights movement, she earned her cover spot by positioning herself as a public beacon of hope as she shared her experiences on social media and showing up on the front lines of protests in cities around the country.
Peak #blackgirlmagic @RealYaraShahidi @TeyonahParris @essencemag. https://t.co/rO7mzQdQGO pic.twitter.com/QKt3eE7P8u

— Johnetta Elzie (@Nettaaaaaaaa) January 6, 2016
For all of the work she does and recognition she has achieved, Elzie remains as insistent that anyone can— and should — do what she does. She said, "Every time I hear people say [anything about social media activism], being shady, I remind everyone, you met me or you know me because I was on the ground and on social media at the same time. It's not hard to do both. If people want to do one or the other, that's fine. It's not a competition. That's one of the pettiest things people can say."
[Images via screengrab.]
For more from Lindsey, follow her on Twitter.
Have a tip we should know? tips@mediaite.com