Even Harper Lee's Editor Didn't Know To Kill a Mockingbird Was Getting a Sequel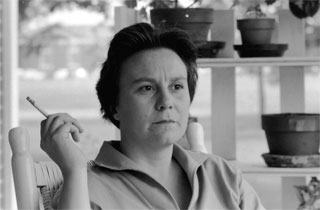 The initial giddy shock over yesterday's announcement that Harper Lee would be publishing a sequel to To Kill a Mockingbird has subsided to suspicion over why it would be published, and a recent interview with Lee's editor just made this situation more shady.
In an interview with Vulture, Hugh Van Dusen, Lee's editor at HarperCollins, said that he didn't learn about Go Set a Watchman's existence until yesterday, like the rest of us. "Other people have read it at Harper, but I haven't yet," Van Dusen, who's been Lee's editor for years, told Vulture. "The book had been a deep secret here, even to me." (According to a press release, the novel was written before Lee started work on To Kill A Mockingbird, in the 1950's.)
The rest of the interview was flagged by The Toast as "one of the most confusing interviews I've ever seen," mainly for Van Dusen's use of phrases along the lines of "The version I was told," "I don't know this for a fact," and "If it has been edited, nobody's told me."
And if this section doesn't ring alarm bells, we don't know what will:
Has there been any direct contact about the book between Harper and HarperCollins? Or is it all done through intermediaries?
Are you asking if we've been in touch with her directly?

Specifically about the release of this book, yes.
I don't know, but I don't think so, only because she's very deaf and going blind. So it's difficult to give her a phone call, you know? I think we do all our dealing through her lawyer, Tonja. It's easier for the lawyer to go see her in the nursing home and say HarperCollins would like to do this and do that and get her permission. That's the only reason nobody's in touch with her. I'm told it's very difficult to talk to her.
Some context: For the past few years, the copyright of To Kill A Mockingbird was seized from Lee by a literary agent who inherited the rights to her book from his in-laws, her longtime representatives, and was eventually accused of attempting to exploit the author after she had suffered from a stroke. (Vanity Fair broke this story last year, in which a source told them that, due to her macular degeneration, Lee "would sign almost anything anybody put in front of her.")
On top of that, her new lawyer, Tonja Carter, has been somewhat overzealous in attempting to protect Lee's legacy, to the point where she would suddenly threaten legal action against biographers who had worked with Lee and her sister, and, according to a Vulture investigation, sued many of Lee's longtime friends for selling Mockingbird-themed memorabilia. "I don't know what kind of relationship they entered into, how she ever became of counsel, and I don't give a rat's ass, to tell you the truth," a member of the museum's board told Vulture. "It was stupid to let it happen, I can tell you that." Throughout all of this, Lee has remained silent, mostly out of a desire to remain out of the spotlight.
[h/t The Toast]
[Image via Wikimedia Commons]
—
>> Follow Tina Nguyen (@Tina_Nguyen) on Twitter
Have a tip we should know? tips@mediaite.com