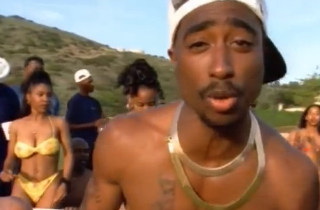 The first Las Vegas police officer to arrive at the scene of Tupac Shakur's 1996 murder has revealed the final words uttered by the iconic rapper. And they are pretty Tupac-esque.
Vegas Seven interviewed retired LVMPD sergeant Chris Carroll on his harrowing experience at the infamous crime scene. "He looked at me, and he took a breath to get the words out, and he opened his mouth," the ex-cop recalled. "And then the words came out: 'Fuck you.'"
The late emcee was shot multiple times on September 7, 1996, after leaving a boxing match with the controversial former Death Row Records CEO Suge Knight. The drive-by occurred when a Cadillac rolled up next to Tupac's vehicle and fired more than a dozen rounds from a back window.
Recently retired and now able to freely discuss the case, Carroll went on to describe more of the hectic scene after he arrived, including a profusely bleeding Knight who was non-cooperative:
"I grab the car door and I'm trying to open it, but I can't get it open," he says. "[Suge Knight] keeps coming up on my back, so I'm pointing my gun at him. I'm pointing it at the car. I'm yelling, 'You guys lay down! And you, get the fuck away from me!' And every time I'd point the gun at him, he'd back off and even lift his hands up, like 'All right! All right!' So I'd go back to the car, and here he comes again. I'm like, 'Fucker, back off!' This guy is huge, and the whole time he's running around at the scene, he's gushing blood from his head. Gushing blood! I mean the guy had clearly been hit in the head, but he had all his faculties. I couldn't believe he was running around and doing what he was doing, yelling back and forth."
After Shakur's body fell out of the car, "like he was leaning against the door," Carroll recalled:
"Suge starts yelling at him, 'Pac! Pac!' And he just keeps yelling it. And the guy I'm holding is trying to yell back at him. He's sitting up and he's struggling to get the words out, but he can't really do it. And as Suge is yelling 'Pac!,' I look down and I realize that this is Tupac Shakur."
Upon attempting to get Tupac to finger a potential suspect, Carroll found the rapper unwilling to comply:
"[H]e went from struggling to speak, being noncooperative, to an 'I'm at peace' type of thing. Just like that… He went from fighting to 'I can't do it.' And when he made that transition, he looked at me, and he's looking right in my eyes. And that's when I looked at him and said one more time, 'Who shot you?'… He looked at me and he took a breath to get the words out, and he opened his mouth, and I thought I was actually going to get some cooperation. And then the words came out: 'Fuck you.' After that, he started gurgling and slipping out of consciousness."
Tupac: Defiant until the very end.
And while you're here, enjoy one of Pac's better posthumous singles below:
[h/t Rolling Stone]
[Image via screengrab]
— —
>> Follow Andrew Kirell (@AndrewKirell) on Twitter
Have a tip we should know? tips@mediaite.com