Exclusive: District Attorney Confirms Chris Lane Suspect Did Not Say 'I Pulled the Trigger' in Bail Hearing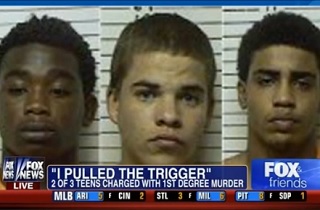 A fairly important detail in the story of murdered Australian baseball player Chris Lane appears to have been grossly misreported by several major media outlets. The Associated Press, CBS News, and The UK Daily Mail, among others, reported that 17 year-old suspect Michael Jones blurted out "I pulled the trigger" at his bail hearing on Tuesday. However, Mike Smith from The Duncanville Banner quoted Jones as saying "I didn't pull the trigger."
That's a pretty significant discrepancy. After reporting on the disputed quote Wednesday, I contacted several of the reporters who quoted Jones as saying "I pulled the trigger," in order to see if they could confirm which was correct. The Daily Mail's Rachel Quigley replied that "I took that quote off this AP version, which came out immediately after the boys appeared in court on Tuesday," and linked to a CBS News/AP story by Iris Carreras.
I had also emailed Carreras to ask which quote was correct, and she responded "The right quote is  'I pulled the trigger.'"
The Duncanville Banner was closed last night, but I  got in touch with reporter Mike Smith this morning, and he said that the correct quote was "I did not pull the trigger," at which point the judge stopped him. "I was standing right there," Smith said, "and District Attorney Hicks was even closer."
Stephens County District Attorney Jason Hicks confirms Smith's account. Michael Jones has been charged as an accessory in the murder of Chris Lane, and was the last of the three suspects to speak at Tuesday's hearing. Hicks says that Jones blurted out "I did not pull the trigger," before Judge Jerry Herberger stopped him. "I was standing right next to him, Mike Smith was standing right next to him, a whole bunch of deputies heard him," DA Hicks says.
"The judge stopped him and told him 'You're here ti set a bond, and that's it.'" Hicks continues.
He explained that, just prior to Jones' appearance, a relative of 15 year-old suspect James Edwards Edwards "was out in the hall screaming 'I'm gonna kill all of you mother-so-and-sos,' so we had to put her in jail, and emotions were running high, so it was about keeping control of the courtroom."
Hicks also said he was baffled by the reporting on erroneous quote. "If he'd have said 'I pulled the trigger,' I would have immediately stopped the proceeding, headed down the hall, and filed a murder one charge."
I also asked District Attorney Hicks about reports on the suspects' Twitter activity, and whether he thought they indicated a motive in the killing.
He explained that he didn't want the prosecution to be sidetracked by the issue. "All the stuff coming out in social media, I don't see anything there," Hicks said, "and we don't want to distract from a murder case. Our evidence doesn't indicate that Chris Lane was shot because he was white."
He said that if other evidence emerged, that might change, but concluded, "Our focus is on making sure that we get justice for Christopher Lane."
[photo via screengrab, Fox News]
Have a tip we should know? tips@mediaite.com