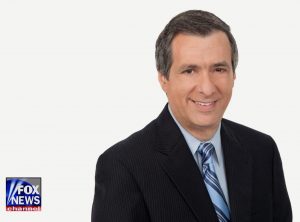 Fox News Channel's Howard Kurtz was right about Donald Trump. If you're a regular Mediaite reader, you know that. You may remember when he warned the media against continuing to adopt an anti-Trump tone this September. You may remember him doing it in April. He was consistent in his beliefs that the media was getting the Trump thing very, very wrong and that the real estate mogul would prove everyone wrong in the end.
On November 4, just four days before Election Day, he published a piece called "Trump Closing the Gap: Are the Mainstream Media Misjudging Him Yet Again?" That piece began with, "If Donald Trump can continue to gain ground in a few key states by next Tuesday, he will win the presidency."
Prescient, right? We thought so, so we caught up with Kurtz to ask him about his predictions. We wondered what a man who got Trump's candidacy right from the start would tell us about what a Trump presidency might look like for the average American and the average reporter. Kurtz is host of Fox's Media Buzz, the #1 show in its 11:00 a.m. time slot.
First of all, he was adamant that he is not for Trump, nor is he against him. Kurtz is a journalist and takes his ethical call to neutrality very seriously. He explained that this year, he hasn't seen a similar commitment to eschewing bias among other groups within the American media landscape:
I have a pretty good BS detector for groupthink and it seemed to me there was so much groupthink in the media about how he wouldn't make it to Iowa, he wouldn't get the nomination, of course, he'd get clobbered by Hillary Clinton. My job as a journalist is to keep an open mind, which is why in the last few weeks I went on the air and said that all the journalists predicting this is over are being a bit reckless.
It's obvious that Kurtz has felt this way for a long time, but why? How was he able to see that Trump was a serious candidate from the very beginning? Well, unlike a hefty portion of today's political reporters, Kurtz has been familiar with the deal-making tycoon for decades.
"I've been covering him off and on since the 1980s," he explained. "I had a sense this was a media-savvy guy, a determined guy … so I never joined the media mob that thought he was a clown, a side show, or an entertaining distraction in the beginning of the primaries."
Resisting the "media mob," of course, wasn't easy. Kurtz described some of his contemporaries as seeing him as "seriously misguided."
He revealed, "A lot of journalistic colleagues and friends would roll their eyes or recite the latest polls that would absolutely prove that Hillary Clinton would win. I've been through enough campaigns to know that — especially in the final weeks — stuff happens."
What he observed as his fellow journalists were dismissing Trump and throwing poll numbers at him was that there is a "disconnect" between the coastal elites of the media and the everyday people of the American heartland. That disconnect turned out to be a theme throughout the election as voters in more rural areas made it increasingly clear that they were tired of establishment politics, but few in the media grasped that those people had the power and determination to make a difference. Kurtz, of course, did grasp that and even recognized that the dissatisfaction with establishment politics had morphed itself into a dissatisfaction with establishmentarianism at every level, including the mainstream media.
Trump, like Kurtz, seemed to take notice of the average voter's disdain for the major news channels and outlets. The GOP nominee heeded their call and he and his campaign staff launched attacks on CNN, the New York Times, the Washington Post, and plenty of other news organizations. He even went after individual journalists on a few notable occasions. When asked what the future of news media looks like under President Trump given the level of distrust between the consumers, the media, and the President-elect himself, Kurtz responded, "It doesn't take any great crystal ball to know the relationship will continue to be contentious. I suspect there may be an accommodation of sorts now that he's [past yanking credentials] and attacking journalists. He may have a few more important things to do as President of the United States!"

(Kurtz's insistence that he doesn't have any "great crystal ball" was a common refrain; on multiple occasions through our discussion and in his own pieces, he has made it clear he doesn't make predictions. He just reports on what might happen… and, at least when it comes to Trump, gets it right!)
While discussing political journalism in the Trump White House, he was quick to point out two related points: In his estimation, the media has definitely not slowed down the production of anti-Trump content, noting that instead of working more proactively to reverse their biased reputations, "it's almost as if some journalists and commentators are refusing to accept the outcome, blaming his voters as dumb, or hardening into an opposition camp."
That being said, of course, his second point was that it will "trouble" him if Trump does attempt to limit press freedoms, as so many have expressed fear he might.
Ultimately, he stuck with his insistence that he isn't making any predictions and we'll just have to "wait and see." Judging by the accuracy of his non-predictions in the past, we'll be tuning into Media Buzz consistently to get his thoughts on the Trump-media relationship as it evolves. 
[image via Fox News Channel]
This is an opinion piece. The views expressed in this article are those of just the author.