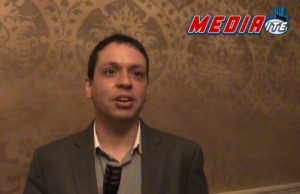 Pioneering Daily Kos founder Markos Moulitsas was on hand yesterday for a panel discussion at the liberal America's Future Now! conference, and spoke with authority about grassroots activism in the Age of Obama. I caught up with him after his panel to bounce a few media-related questions off of him, and he had some surprising things to say.
Markos' panel was one of the first of the conference, so while attendance was good, the crowd was relatively low-energy. Afterwards, a dozen or so people lined up to speak with him, and I was impressed with how he eagerly indulged all of them. This wasn't "You're so awesome! Can I have your autograph?" It was "Let me give you my vision of the progressive movement, then you respond, and then we can have 6 more tangential discussions, the last one of which I will revive 4 times when it seems like we're done."
All kidding aside, it was refreshing to see that he cares so genuinely about his cause, and his core audience. He never once glanced at his watch or fidgeted.
Our interview was full of surprises, not the least of which was his sincere, if qualified, profession of love for Fox News.
In part 1, I asked Markos what he made of the just-broken news of Helen Thomas' retirement.
In part 2, I asked him if, and why, he thinks the Republicans seem to be getting a total pass on the BP Oil Spill:
Finally, I asked who he'd like to see replace CNN's Campbell Brown. Somehow, this ended with Markos Moulitsas saying how he loves and appreciates Fox News.
Have a tip we should know? tips@mediaite.com