Exclusive: NBC's Andy Lack to Meet with Keith Olbermann on Possible MSNBC Return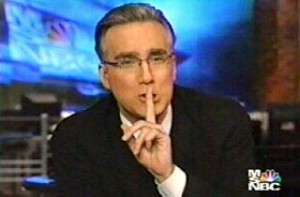 The apex of MSNBC's 19-year existence was arguably its run during the 2008 presidential campaign. Barack Obama was an electric, historic and therefore ratings-generating candidate. Sarah Palin–who joined the fray relatively late just three months before the election, served as the perfect foil for progressives. And leading the charge was the face of the network, Keith Theodore Olbermann.
But like many times and broadcast venues before, the former ESPN, Fox Sports and Current TV talent eventually wore out his welcome at MSNBC and the two parted ways in January of 2011. The network still enjoyed a successful 2012 fueled largely by the president's successful re-election campaign, but then faltered badly during the following (non-election) year. Things got even worse in 2014 with the network falling behind CNN in the demo and into 3rd place, leading to the big changes we've seen from NBC News President Andy Lack this year…changes that include Ed Schultz gone (replaced by Chuck Todd), Al Sharpton to Sunday mornings and all opinion programming from 1:00 PM-5:00 PM EST eliminated for relatively traditional news (via Thomas Roberts and Kate Snow).
So now that afternoons are settled and with Lack basically confirming to Variety what was exclusively reported here last month regarding the likely expansion of Morning Joe (an additional hour extending to 10:00 AM EST), the last piece of the puzzle appears to be primetime. Note: 9:00 PM and 10:00 PM will remain safely in the hands of Rachel Maddow and Lawrence O'Donnell, leaving 8:00 PM (All in with Chris Hayes) as the next possible timeslot for alteration. So with all of that said, a well-placed source now informs me that a meeting has been set between Olbermann and Lack to discuss his return to the network and his old 8:00 PM slot. This arrangement was something that Mediaite's Andrew Kirell first wrote about as a rumor in July; when asked for comment, a network executive with knowledge close to the situation tells me, "It is patently untrue."
Said source indicates the impetus for the conversation is to jumpstart sagging ratings under Hayes, which despite an Emmy win this year has been a consistent drag on the rest of primetime since launching on April Fools Day in 2013. At one point this year in May, the show averaged only 74k in the demo, making it the worst performing MSNBC program at 8:00 PM since 2005. And given Olbermann is now a free agent after leaving ESPN again in July (Note: on good terms if the company's farewell statement is any indication), he appears to be the only remedy for Lack.
Also note: The biggest liberal names out there–the kind that attract eyeballs and own the unique ability to go viral–are either locked up in contract and/or (much more importantly) far too pricey: Jon Stewart made a reported $30 million annually with Comedy Central; Bill Maher would never agree to be relatively restrained (compared to the freedom HBO provides), and John Oliver gets paid $2 million annually to be on the air once a week for 30 minutes with a killer research and writing staff. Someone like a John Fugelsang is potentially a more cost-effective, outside-the-box option, but is an unproven commodity on this kind of stage, and MSNBC brass may be (rightly) risk-averse given its recent history in that regard.
In the meantime, a conversation may or may not soon commence between Keith Olbermann and MSNBC, depending on whom you believe. The topic? His possible return to the network.
He isn't under contract. A huuuugggge campaign season with plenty of comedy to play with is already underway. There probably isn't a moment on this rollercoaster ride that Olbermann wishes he isn't attacking with a snarky remark from his old Countdown chair again.
He may have burned (OK, napalmed) the bridge during his sudden exit last time. There's always a risk taking on the Terrell Owens of broadcasting.
But bridges can be repaired if the ends justify the means. In the end, Olbermann and MSNBC make sense, at least until the inauguration in 2017.
And if one discussion leads to another which leads to a contract, perhaps MSNBC primetime as a whole can get back to being truly competitive once again.
— —
Follow Joe Concha on Twitter @JoeConchaTV
Have a tip we should know? tips@mediaite.com