Expert Suggests Dogs Hate Hugging But Let Us Do It Because They Know We Love It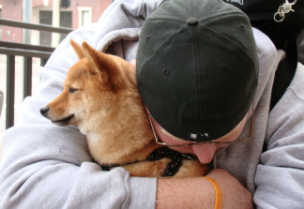 Brace yourself. A piece from the New York Times has been blowing up on social media platforms like Twitter and Facebook over the past few days as devoted dog owners, lovers, and trainers come to terms with the following two facts:
They are sadistic torturers of the very thing they love most
Dogs are infinitely more selfless than previously thought
A expert's findings about how much dogs really love us — and we all know they do — sparked the Times' Christine Hauser to report that pooches aren't as into hugs as we want to believe they are. Rather, because they are cursorial animals and prefer flight to fight, hugging a dog takes away their ability to take off and replaces it with a stressed-out feeling.
That expert is called Dr. Stanley Coren and he is a a psychology professor emeritus at the University of British Columbia and a dog-training expert. He reviewed 250 photos of people hugging their dogs and reported that 81% of those pups exhibited at least one physical sign of being distressed.
Dr. Coren's findings are being refuted, of course, by other experts and pooch enthusiasts. Corey Cohen, a companion animal behavior therapist, insists that his dogs love hugs and that maybe the dogs who looked anxious in the photos were really just freaked out about being photographed.
Yeah! Did you ever consider that, Dr. Coren? Huh? Did you?
Erica Lieberman, a dog trainer and behavior consultant, has weighed in on the latest dog-related debate and thinks we shouldn't hug dogs at all, if only because it could be unsafe. It was this bomb that she dropped, though, that reverberated around the Internet hardest:
Ms. Lieberman said dogs understand facial expressions and learn that hugging makes people happy. Therefore they may be putting up with something they do not really like.
She went on to say that some dogs get into hugs because they understand that it is part of what makes them a proper human companion.
Are you having a sad, introspective moment? Are you questioning if you love your pet enough to stop hugging them for their own comfort? Take a moment. It will be okay.
[image via Flickr]
For more from Lindsey, follow her on Twitter or Facebook.
Have a tip we should know? tips@mediaite.com