Facebook Now Has a 'Town Hall' Feature That Lets You Contact All Your Elected Officials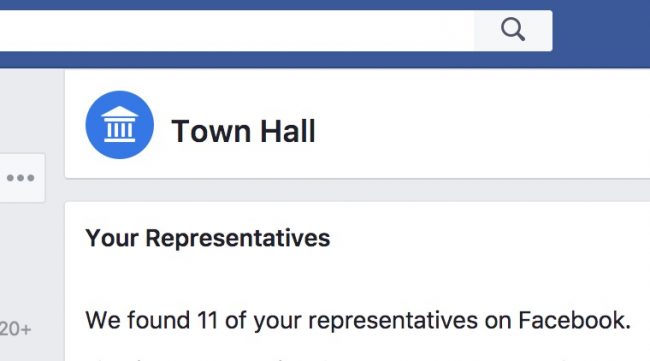 Facebook has joined the trend of digitally linking the voting public with their elected officials.
A few nights ago, Stephen Colbert urged his viewers to log onto House.gov, go hunting for phone numbers, and dial up their representatives the old-fashioned way, but there is an increasing number of ways to get in touch with elected officials with ease. We've told you about 5Calls for finding phone numbers and Resistbot for sending actual faxes, but Facebook's Town Hall feature allows you to send an email with the tap of a button. Behold! The holy triumvirate of contacting the officials who are endeavoring to take healthcare away from 24 million people!
If you're wondering why you haven't heard of this feature, which has been around for about two weeks, it's because it arrived on desktop and mobile versions of the social network with little to no fanfare. Last night, this Mediaite writer undertook the frustrating task of locating her "saved videos" on Facebook (for the purpose of making a snack from a saved recipe video, if you must know) and stumbled upon the "Town Hall" page. On desktop, it's nestled deep in the menu on the left side of the page. It's under "Explore," but a user will need to press "See more…" to find it. On mobile, it's under the "Apps" section of the navigation menu.
Certainly, since it's so unnoticeable, there are improvements that could be made in terms of actually attracting concerned voters, but once on the Town Hall page, use is remarkably easy. A user is promoted to enter their address to reveal their local reps, like the city's comptroller or their borough president. It's possible to skip that step and go straight to the statewide and national representatives, from senators all the way up to the president.
The representatives are listed and each one shows a picture taken from their public profile, which is linked to their Town Hall card. There are options listed on each card, including Follow and Contact. Depending on what the official has included in the contact information on their public page, a constituent can email, message, call, or even find out the physical address to which letters should be addressed.
Here is how it looks when a New Yorker presses Contact for Senator Kristen Gillibrand: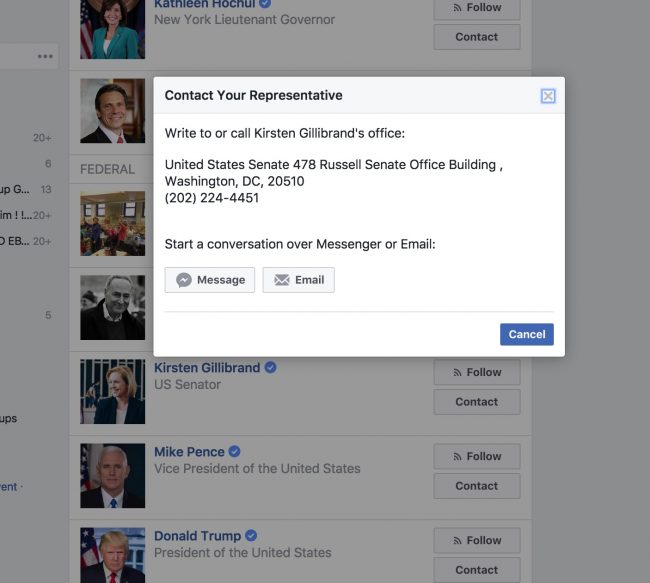 So, what are you waiting for? Go have your voice heard! (Or your words read! Whatever!)
[image via screengrab]
——
Have a tip we should know? [email protected]