Facebook Took Down A Ridiculous Coronavirus Meme I Posted Two Months Ago For Causing 'Physical Harm'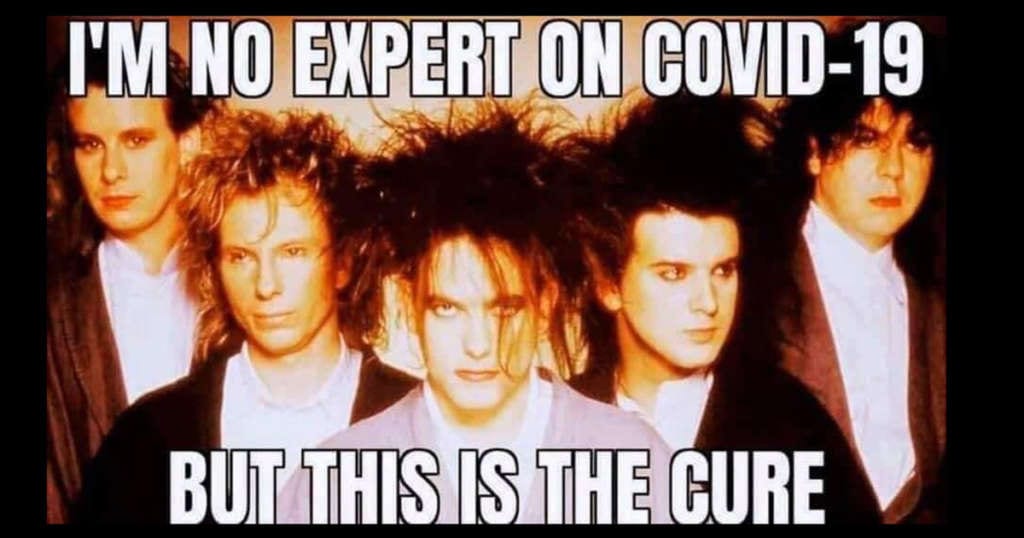 The English rock band The Cure has enjoyed a long and successful tenure, including Grammy awards, top-selling albums spanning across multiple decades, and their induction into the Rock and Roll Hall of Fame in 2019. No reasonable person would think that their musical prowess conveys upon them any sort of medical expertise, but that didn't stop Facebook from taking down the lighthearted meme I posted back in March.
I originally found the meme, posted above, circulating on social media when the coronavirus pandemic was just starting to affect the United States. I thought it was irreverent but not offensive, and it passed my personal "is it 'The one that makes me laugh'?" test, so I shared it on my Facebook page on March 24. The pandemic has caused a lot of stress for many of us, and sharing ridiculous memes — such a gorgeous sight — has been a cathartic release.
But Tuesday's grey for Facebook: I got a message yesterday saying that my post had been removed because it "goes against our Community Standards on misinformation that could cause physical harm."
"We encourage free expression," the message continued, "but don't allow false information about COVID-19 that could contribute to physical harm."
When I clicked "Continue," the next screen described Facebook's "Community Standards" and decision-making process. "We use either technology or a review team to remove anything that doesn't follow our standards as quickly as possible." I must have been asleep for days, because I cannot explain how that applies to an obviously silly meme, posted over two months ago — either Facebook's algorithms are drunk or their human reviewers are the fussiest spoilsports on the planet.
The next screen gave me the option to accept or disagree with Facebook's decision to remove the post. I clicked "Disagree With Decision."
I opened up my eyes and found myself alone, alone, getting no response from Facebook. As the last screen explained, because of the pandemic, Facebook had "fewer reviewers available right now," and they were "trying hard to prioritize reviewing content with the most potential for harm."
Facebook has sent no other communications nor restored my post. It remains, lost and lonely, visible only to me on my profile.
However long I stay, waiting for their reply, enjoy The Cure's performance of "Lovesong" at their Rock and Roll Hall of Fame induction ceremony:
UPDATE: Shortly after 5:00 pm EDT, Facebook reversed its decision, sending me a notification that they were "sorry we got it wrong," and my post had now been restored.
The next screen had an additional message. "We're sorry we got this wrong," it said. "We reviewed your post again and it does follow our Community Standards."
Glad we didn't have to wait until Friday to get some love from the social media giant.
Have a tip we should know? tips@mediaite.com