#FakeNews Has Long Been Rampant in Entertainment World. No One Cared, Until Now.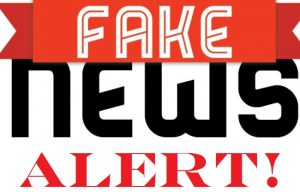 "Fake News" is old news to me. In fact, I co-founded a website in 2009 called GossipCop because it was so prevalent in the entertainment world. After all, there are only so many times Jennifer Aniston can be pregnant, and then, well, not be. Since its inception, I have repeatedly heard the refrain, "So what, it's celebrity reporting? Who cares if it's wrong?" The answer is becoming increasingly clear. Even a few seemingly innocuous, though entirely fabricated Brad Pitt and Kim Kardashian stories, for example, have paved the way for others to post decidedly deceptive political stories. That seemingly unimportant slippery slope snowballed, and now the web is trying to dig itself out of this avalanche of misinformation.
It's important, however, to first delineate between bad reporting and deceptive stories. Sometimes even the best practitioners' sources are occasionally wrong, and what results in the end is an untrue story. Conversely, purposely deceptive articles, which are now referred to as "Fake News," actually start with an untrue premise, and are not predicated on information from credible sources.
So there is 1) fake news that's wholly manufactured and published on websites that tend to have domain names that sound like legitimate news outlets. And then there are 2) seemingly legitimate outlets that publish made-up articles about real-life individuals.
For a brief time, Gossip Cop repeatedly debunked death hoaxes which included something called "Global Associated News." For the most part, these fake news stories which fall into category one, often claimed certain celebrities "died" as a result of an accident. Among the most popular accidents employed by Global Associated News were an actor falling off a cliff in New Zealand while filming a movie or skiing on vacation in Zermatt, Switzerland. Eddie Murphy "died" so many times in Zermatt, we jokingly suggested to his rep that maybe the comedian should give up skiing.
In 2014, Gossip Cop busted fake news from Facebook that falsely alleged Miley Cyrus was dead. That same year, the Internet killed off Wayne Knight, who played Newman on "Seinfeld." A specious site called "TMZ.Today," which was created to confuse consumers into thinking it was the actual TMZ, claimed Knight died in a car crash.
This particular type of fake news proliferated on social media during this past election cycle using that tried and true tactic. It still worked. Several websites with domain names that sounded like TV or radio stations posted untrue tales to sway voters. For instance, one guilty outlet has the address "abcnews.com.co," and throughout the election season it falsely led visitors to believe they were reading legitimate news from ABC.
In the end, fake news in entertainment or politics is, for the most part, about unscrupulous greed. And this is where that second subset profits. The seemingly legitimate outlets that make up fake news articles or at least headlines, are lining their pockets and ironically being rewarded as trusted authorities by the same social media companies and search engines they're duping.
Basically, search engines and social media reward unique content most often measured by popularity, with indices such as how many links or likes it accrues. The more links or likes a story racks up, the more likely it will appear higher up in searches or in feeds. Ironically, the more an outlet dupes its readers, the more likely the very search engines and social media it used to perpetuate its falsehood will reward the site as an "authority." The net result is that regardless of whether its stories are 100 percent true or 100 percent fabricated, that site has a better chance up rising to the top of feeds and searches.
The more traffic an outlet gets, the more revenue it will generate and so certain sites use this formula to concoct untrue posts and cash in. Here's how it's done: Webloids, as we call them, either take a newsworthy individual or a preexisting news story, and then add fake or in credibly misleading "exclusive" angles to it. Of course, if the outlet had such good "sources" in the first place, presumably it would have broken the original story upon which its new, phony "exclusives" are based.
For instance, moments after Angelina Jolie announced her split from Brad Pitt, the site HollywoodLife magically had a slew of "exclusives" about the two, which were, and with the passage of time remain, provably untrue. Among the earliest and most egregious examples was a news story that same day, claiming George Clooney was lending Pitt support through the breakup. The problem, however, was Clooney wasn't even aware of the couple's split when HollywoodLife posted its fabricated article.
Another site that publishes some accurate celebrity reports, including some big exclusives, also appears to pepper its content with fake news stories. For more than a year, that webloid has falsely alleged Kim Kardashian and Kayne West were on the verge of divorcing. And statistically speaking, one day that very well may happen. However, the outlet has churned out one news story after another about them hiring matrimonial attorneys and hammering out divorce details. Not only has time (so far) proven them wrong, but from my own sources I know these tales to have been untrue and the fact that the webloid has never bothered to fact-check its claims with Kardashian's reps is more than telling.
I am not an SEO specialist nor am I a skilled developer, just a long-time journalist who has watched as fake news stories have been rewarded again and again. The silver lining for me? Finally others seem to care about this plague that has dogged celebrities and the entertainment world for years. Sure it's a heckuva lot more important when it relates to a Presidential candidate running some invented child-sex ring out of a pizza shack than a celeb shacking up for sex with someone who could be his child, but as they say, understanding history can help us avoid repeating our mistakes. Fake News is nothing new, it's just a virus that has infected a new and far more influential and important subject.
(Mediaite founder Dan Abrams co-founded GossipCop with Michael Lewittes, the author of this piece. Check out GossipCop.com here)
Note: This post has been republished from 12/20/16.
This is an opinion piece. The views expressed in this article are those of just the author.