L.A. Times Reporter Explains How Journalists Can Have Their Own Ideologies But Be Objective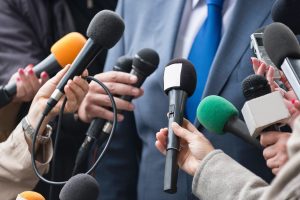 There has always been debate over what elements of themselves, if any, journalists should reveal. Today, the Los Angeles Times' Matt Pearce became the latest to weigh in on the subject, which has only become more pressing in the months leading up to and following the election of Donald Trump.
Some journalists, like Jake Tapper, are so against personal bias that they don't even vote in elections they cover. Certain outlets, too, have a hard stance even when it comes to their staff's personal social media accounts, which Julia Ioffe learned when Politico sent out a biting statement regarding an opinion she tweeted.
Pearce, who has about 87k followers on the microblogging site, is a national reporter for the newspaper and has been a leading voice covering Black Lives Matter, the associated protests, and much more. He also tweets personal observations and opinions frequently. Today, he opined on the lack of trust between the media and consumers.
Someone followed that up by tweeting this:
Reporters like @mattdpearce can't post barrage of ideological commentary online then complain that his reporting isn't received objectively.

— Jeff Carpenter (@jeffcarp) December 26, 2016
Reporters, like anyone else, have feelings and opinions about the country and community in which they live and a few followers said as much. Pearce himself jumped in, though, and made a few points about how a journalist can be ideological and still maintain objectivity in their work.
Like, I think the training and practice for journalists to bend over backwards to understand why everyone does what they do is a good one

— Matt Pearce (@mattdpearce) December 26, 2016
and people will take away from it what they want, which is what they've always done

— Matt Pearce (@mattdpearce) December 26, 2016
When a follower wrote that accuracy and fairness aren't the same thing, he responded this way:
True! In those cases, the problem is usually a lack of context, which is also key to good journalism of whatever stripe. https://t.co/iahczw14VX

— Matt Pearce (@mattdpearce) December 26, 2016
The original tweeter persisted, so he and Pearce had a dialogue.
@jeffcarp I mean, it's a common argument because it's true. A lot of people are soul-searching about who their audiences are.

— Matt Pearce (@mattdpearce) December 26, 2016
@jeffcarp I actually agree with all of this

— Matt Pearce (@mattdpearce) December 26, 2016
There is likely to be more of this type of discussion in the coming months and years as journalists continue the "soul-searching about who their audiences are" referenced by Pearce. Some, like CNN's Alisyn Camerota, have concluded we are now living in a "fact-free" world. The adjustments reporters make under these circumstances will be noteworthy, if not revolutionary altogether. The way reporters, consumers, and public figures approach news in America may be changing right in front of us.
We reached out to Pearce for comment and will update if we hear anything more.
[image: Microgen]
Have a tip we should know? tips@mediaite.com