'Falls Off a Cliff': Here's How Global Markets Have Reacted Since Trump Reached 270 Votes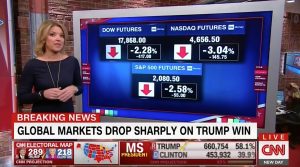 This morning on CNN's New Day, Christine Romans gave a look at just how volatile several of the global investment markets have reacted to the news late last night that Donald Trump would become the next President-Elect of the United States.
While people have long speculated that a Donald Trump victory would spell out certain doom for the financial markets both at home and abroad, the true scale of these nosedives finally took form in the 8 p.m. EST hour on Tuesday. That's the hour of the election night when the tide began to turn, as newsroom projections started to indicate that a potential upheaval of political expectations was slowly taking form.
"I'm seeing a big sell-off around the world," Romans said Wednesday. As of the 7 a.m. EST hour, Dow futures was down an estimated 415 points — a mark that was decidedly higher than the grim figures from the middle of the night. "That's significant pain in your 401K," she continued.
NASDAQ and S&P futures were also down substantially, and are expected to remain down through Wednesday's opening bell.
Romans at one point in her report indicated that Dow futures took a severe stumble approaching the 10 p.m. hour Tuesday before beginning a slow rise shortly after Trump's semi-conciliatory speech after 2 a.m. Romans noted that the markets in Tokyo, Shanghai, Paris, and London are all also down as a result of the stunning U.S. presidential election.
Although Donald Trump likes to pride himself on bring the candidate — sorry, the president-elect — of unpredictability, it is that exact terrain of the unknown that can lead to financial disaster. The head of Strateges policy research Dan Clifton said, "What bothers the markets are uncertainties about a new president, his issues of trade, and people are worried about how other world actors will react to a Trump presidency."
While many key battleground states like Florida, Ohio, and North Carolina had their polls close earlier in the night, their final projections would not be called for several hours. In fact, the AP was the first major media outlet to project a Trump win in Florida, the decisive state that put the GOP nominee over the top.
Watch above via CNN.
—
[image via screengrab]
Have a tip we should know? tips@mediaite.com