Fan Voting Will Determine Which Twilight Zone Episodes Will Air in Primetime on New Year's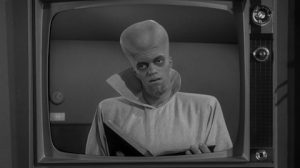 You unlock this door with the key of imagination. And also, your Twitter account.
Yes, it's the best time of the year for those of us who love the classic Rod Serling-helmed episodes of The Twilight Zone: the annual New Year's Marathon on Syfy. The must-watch event historically has aired back-to-back episodes of the thrilling TV classic all day and night on December 31st and January 1st each year, but this weekend fans of the series will be in for a twist.
For the first time ever, Syfy is allowing fans to actually vote for the top episodes that will air on Sunday January 1st in primetime; 6 half-hour slots are being kept open, and the episodes that will fill them will be determined via a 15-minute voting window on Twitter.
Syfy's press release about the exciting addition reads:
Starting at 7:30/6:30c, viewers can cast their votes for one of two competing episodes by tweeting the specially created episode hashtags to the official Syfy handle, @Syfy. In all, 12 episodes will be in contention for 6 slots, with the winning episodes airing immediately following a 15-minute voting window.
The block of available episodes begins Sunday night at 8 p.m. EST and will go until 11 p.m. EST.
The full marathon begins on Saturday, December 31st at 6 a.m. with "Twilight Zone — The Movie," the 1983 film from John Landis, Steven Spielberg, Joe Dante, and George Miller. The regularly-schedule episodes will begin promptly at 8 a.m. EST following the conclusion of the movie.
So what will get the nod for Sunday's primetime lineup? Likely, we can expect to see fan-favorite episodes like "Nightmare at 20,000 Feet" with William Shatner and "To Serve Man" in contention ("IT'S A COOKBOOK!"), as well as my favorite episode "A Stop at Willoughby." Check back with Mediaite for the full schedule of the Twilight Zone Marathon episodes.
Have a tip we should know? tips@mediaite.com