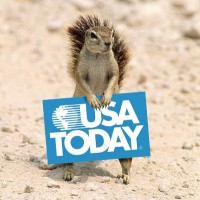 What the Fark? Fark, one of the oldest and strangest crowdsourced news aggregators on the Internet, is teaming up with USA Today. Fark will be getting USA Today's exclusive sponsorship for its geek page, which will throw more USA Today stories into the mix and turn over ad placement to the paper.
Update: A USA Today rep tells us that the paper will not exert any editorial control over Fark's signature snarky headlines or categories.
But this could just be the beginning: the founder of Fark tells Mediaite that more partnerships with major media outlets are in the works.
Fark made its name making fun of the media for running stories that weren't really stories, often involving small-town crooks, shaky polls and scientific studies, and freak accidents: its tagline is "It's not news, it's Fark." Also, for two years, fark.com consisted of a picture of a squirrel with big balls.
There's at least a little irony in their teaming up with the national newspaper sometimes called "McPaper" for its bland, middle-of-the-road appeal. But then, it sounds like USA Today is trying to spiff up its image as well.
Mediaite swapped emails with Fark's founder and impresario Drew Curtis about the partnership. According to Curtis, the plan to team up with USA Today was hatched over beers at South by Southwest last year, and that things clicked because USA Today "is in the mode of trying to shake things up a bit."
Curtis also told Mediaite that they had initially discussed partnering over a travel tab, an idea which "sucked," and that USA Today proposed the geek tab instead:
Initially we were going to do something with travel but after experimenting with trying to populate a travel tab it became apparent that travel news isn't particular funny or weird.  Except for the occasional live cow on the highway or overturned truck carrying random foodstuff that is.  In short, it sucked.  So they suggested we scrap that and use the Geek tab instead.  So to answer your question, they were the ones who asked for the Geek tab, other than our main page it's the second-highest traffic part of Fark.
The most intriguing thing that Curtis said, though, was that Fark currently has plans in the works to partner up with other media outlets. "I can't go into any great detail because if it turns out some of these ideas suck as much or worse than a travel tab we'll shitcan em."
Fark's local news aggregation is still its best feature; as the blogosphere matures and thickens, it's refreshing to read stories that don't just come from other blogs, even if the point is that they shouldn't have been news in the first place. There's definitely a niche for good crowdsourced local stories that blogs or big papers could be eager to fill, especially if they can get their own stories in the mix.
Failing that: maybe the next step is designing USA Today infographics? Amirite?
(h/t Media Decoder) (image via Charles Apple)
» Follow Robert Quigley on Twitter
Have a tip we should know? tips@mediaite.com